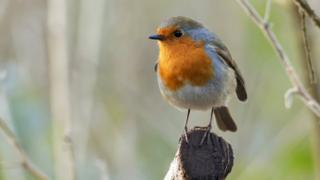 Getty Images
Noises made by humans could be affecting birds' ability to communicate with each other.
New research from Queen's University in Belfast says that man-made sounds are getting in the way of birdsong and this could have an knock-on impact on other aspects of the animals' lives - for example, how they compete for food, find shelter and socialise.
Published in Biology Letters, the study suggests that this could lead to a decline in the number of birds because how they communicate is crucial to their survival.
The scientists reached this conclusion after finding that when European robins heard human-produced noises - even if it was just in the background - their behaviour changed.
It is well known that factors like the use of pesticides and intensive farming can be a problem for birds, but people don't always think about the impact that man-made noise can have.
Dr Gareth Arnott, an expert from the university, explains: "We know that there is the issue of noise pollution. However, as yet we don't know the full implications for the animals in the natural world.
"The next generation of young scientists and young people should be observing nature and trying to find out what some of these unanswered questions are. This includes major man-made changes like plastics and climate change as well as noise pollution, which we need to better understand.
"This generation needs to protect our natural world so the more they understand it and those that live in it, including the birds, the better."