The weather has been pretty miserable recently, and the heavy rain has been causing problems in parts of the UK.
Hundreds of homes were evacuated in the town of Wainfleet, Lincolnshire, after two months' worth of rain fell in just two days.
Now high volume pumps are being used to try to lower water levels in the flooded Lincolnshire town.
Those people affected have been told to avoid using showers, washing machines and even toilets!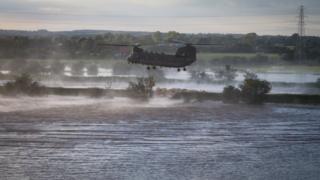 EPA/Cpl Phil Major
Hundreds of people have had to leave their homes and have been told they won't be able to go back until at least the middle of the week.
More than 580 homes were evacuated amid concerns about flood defences.
They've been told to stay with friends and family or go to a centre set up at school in nearby Skegness.
The Met Office is predicting more rain over the next few days so more flood alerts might be issued for the region.