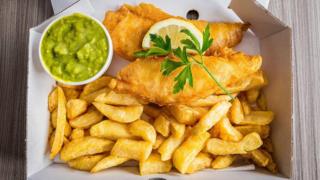 Getty Images
It's National Fish and Chip day!
As one of the nations favourite dishes, it comes as no surprise there are around 10,500 specialist fish and chip shops in the UK and we spend approximately £1.2 BILLION on fish and chips every year!
To celebrate the iconic dish, we want to know what you think the ultimate fish and chips looks like.
Pick your preferred pea, select a superior sauce and single out a suitable seasoning to see how it compares to what everyone else says.
And if fish isn't your thing, you even have a chance to choose another chippy accompaniment!
If you can't see where to choose below, then click here.
The first fish and chip shop appeared in 1860, so it's a combination that has become unbelievably popular in around 150 years.
By 1910, there were 25,000 fish and chip shops in the UK. By 1929, there were 10,000 more.
Nowadays, four in every five British people say that they visit a fish and chip shop at least once a year.
And we eat a whopping 382 million chippies meals every 12 months!
So, we want to know whether or not your choices above were the most popular. Let us know what you think about your results in the comments below!