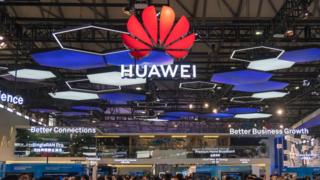 Getty Images
The UK government has decided to allow Huawei, a Chinese company which is one the world's biggest mobile phone makers, to continue to be involved in providing the new 5G mobile network.
But it won't be allowed near the most important areas of the network, or parts of it near military bases and nuclear sites.
The United States and some MPs didn't want Huawei involved in the 5G network at all. They think the company could help China to spy on them.
But the company said it would never spy on clients, while China said it would be unfair to block the company carrying out work in the UK.
To monitor the company, the UK has set up the Huawei Cyber Security Evaluation Centre, which comes under the National Cyber Security Centre.
It says it has never found evidence of China doing anything that it considers suspicious, but it does think there are some serious defects when it comes to Huawei's software engineering and cyber security.
The UK says risks will need to be managed, and it will have several 5G suppliers to avoid depending on one firm.
Read on to find out more about the company, and how it's ended up in a row over cyber security and 5G.
What is Huawei?
Huawei is a massive technology company founded in China back in 1987.
It's pronounced wah-way, according to the company.
It makes smartphones and tablets, provides 4G and 5G internet access, and makes wireless broadband routers, one of which you may have in your home.
It is the largest telecommunications company in the world and they sells more mobile phones across the world than Apple, which makes the iPhone.
Why is Huawei at the centre of a row over 5G?
The reason being given is national security, as there are concerns that the Chinese government could use Huawei and its 5G equipment to spy on the UK and other countries.
These concerns are due to the connections between the owner and founder of the company Ren Zhengfei, a former army officer, and the Chinese government.
The US government in particular points to Mr Ren's military background and argues that Huawei's involvement is a security risk.
Mr Ren was member of China's army, the People's Liberation Army, for nine years until 1983. He is also a member of China's Communist Party.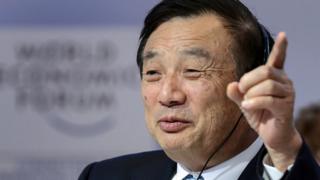 Getty Images
The US also has issues regarding China's 2017 National Intelligence Law, which says organisations must "support, co-operate with and collaborate in national intelligence work".
It claims that this means Beijing could force Huawei to spy or supply information to the government even if it doesn't want to.
But Huawei says it's never been asked to spy and that even if it was asked to it would refuse.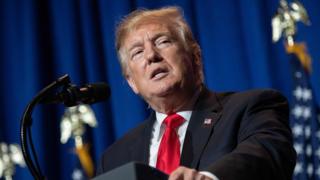 AFP/Getty Images
Last year the US government banned American firms from doing business with Huawei, and Australia and New Zealand have excluded the company from their 5G networks.
Germany has put off making a decision - at least until the next EU summit in March.
Why is 5G such a big deal?
Many countries are preparing to move from 4G to more advanced 5G mobile networks. Download speeds 10 times faster than today will radically change how we work, communicate and stream videos.
Sounds good, right?
But in principle, controlling the tech at the heart of these networks could make Huawei able to spy or disrupt communications.
This is important, as more things - from self-driving cars to fridges, baby monitors and fire alarms - become connected to the internet.
The concern is that state-sponsored hackers could use these devices, which often have weaker security features, as back doors into strategically vital networks.
For instance, this could make it possible to shut down a rivals' power stations, threatening electricity supplies.
Aside from Huawei, there are four main providers of 5G: Nokia - a Finnish company, Ericsson - a Swedish company, Samsung - a South Korean company, and ZTE - a Chinese company that the country's government part-owns.
Why has the UK not banned Huawei from 5G?
In the UK, going Huawei-free would have been a challenge.
The country has been using its equipment since 2005, and three out of four of the UK's mobile networks had already decided to use and deploy Huawei's 5G products.
Even if the UK had chosen to ditch Huawei, it could not just rip up the existing 4G infrastructure. It would have cost a fortune and risked delaying 5G for years.
If the UK had banned Huawei from 5G, China could also have taken action against the UK politically.
Beijing had warned the UK there could be "substantial" repercussions to other trade and investment plans had the company been banned outright.
But the fact the UK hasn't followed the US and President Donald Trump's advice could also have consequences.
The US has warned it could risk future security co-operation, and it could also have an impact on important UK-US trade talks.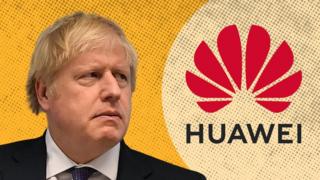 The UK Prime Minister Boris Johnson had faced pressure from the US and some Conservative MPs to block the Chinese tech giant.
A Trump administration official has said the US "is disappointed" with the decision.
Huawei meanwhile, says it is "ready and willing to engage with the US government and come up with effective measures to ensure product security".
The company also argues that blocking Huawei from doing business in the US would not make the country safe from cyber threats and would also leave the country lagging behind on 5G coverage.
When has Huawei been in the news before?
This isn't the first time the company has hit the headlines.
In March last year, Google halted Huawei's licence for Android - the operating system for most of the world's phones, aside from Apple's iPhone.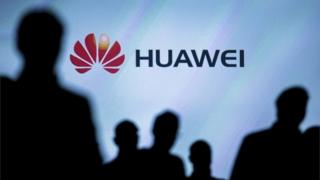 Reuters
This meant the phone maker wasn't able to download updates to its Android operating system, and affected what some people with Huawei phones are able to do.
Huawei phones issued before the ban are still receiving Android updates, but new designs of Huawei smartphones cannot access some Google apps, like YouTube and Maps.
Some users are also unable to update apps and push through security fixes, as well as update Google Play services.