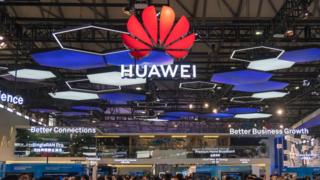 Getty Images
You may have heard the name of a technology company, Huawei, in the news a lot recently, but what is it and why are people talking about it?
On Monday, Google banned the phone maker from some updates to its Android operating system, which could affect what some people with Huawei phones are able to do on them in the future.
It means that new designs of Huawei smartphones are set to lose access to some Google apps, like YouTube and Maps.
Read on to find out more about what's been going on.
Huawei is a massive technology company founded in China back in 1987.
It's pronounced wah-way, according to the company themselves.
They make smartphones and tablets, provide 4G and 5G internet access, and make wireless broadband routers, one of which you may have in your home.
It is the largest telecommunications company in the world and they sell more mobile phones across the world than Apple, which makes the iPhone.
Some countries are worried the Chinese government is using Huawei mobile phones and other technology to spy on people and other country's governments.
Australia and New Zealand have both blocked the use of Huawei tech in their 5G mobile networks and, last week, President Trump added Huawei to a list of companies with which US firms are not allowed to do business unless they have special permission.
There had been warnings in the US since 2012 that the company posed a security threat.
Huawei strongly denies this though. It says it is an independent company with no links to the Chinese government, and that it does not pose a threat.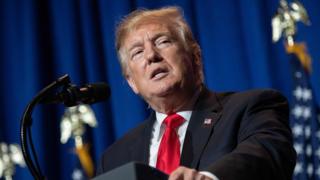 AFP/Getty Images
Now, Google has decided to block the phone maker from some updates to the Android operating system, which will be launched later this year.
Huawei has not made a comment about this.
If you already have a Huawei smartphone, you will be able to update apps and push through security fixes, as well as update Google Play services.
But when the next version of Android is launched, it may not be available on your Huawei device.
Future handsets are set to lose access to some Google apps too.
Why else has Huawei been in the news?
In April, there were reports that the British government planned to allow Huawei to build the UK's 5G network.
This raised concerns for some countries who believe that Huawei technology used for projects like this could be used by China for surveillance - something which Huawei has very strongly denied.
It has already said it is in no way connected to the Chinese government, does not pose a threat and is not sharing information about other nations. It also said said the company is "willing to sign no-spy agreements with governments", including the UK.
Top secret information about UK government discussions around a potential Huawei 5G network issue appeared in the newspapers and it caused a big row.
An important minister Gavin Williamson, who was the UK's defence secretary, was sacked after claims that it was him who told people about what was said in the secret meeting. He strongly denied it was him.
No decision has been confirmed on what role - if any - Huawei will have in the UK.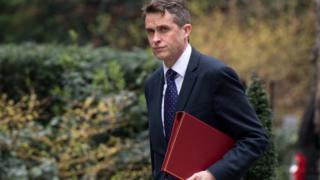 Getty Images
The company has not commented on Google's latest move.
But it did respond to Trump's executive order, saying it is "ready and willing to engage with the US government and come up with effective measures to ensure product security."
It also argues that blocking Huawei from doing business in the US would not make the country safe from cyber threats and would also leave the country lagging behind on 5G coverage.