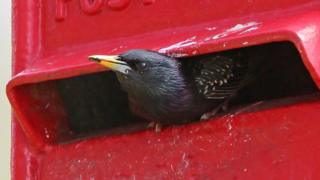 PETER JOLLY NORTHPIX
Meet the animals found in the strangest places.
You may have heard the term 'snail mail' but what if a bird was delaying your post?
A group of starlings have set up their home in a post box in Clashnessie in Scotland's Highlands.
Royal Mail have said they have a legal duty not to disturb the nesting birds and have suspended service from the post box for the time being!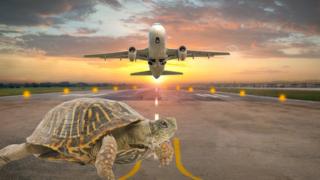 Getty Images
Have you ever been delayed on plane? Was it ever because of something on the runway? Maybe a reptile? Didn't think so.
Well, a turtle in Japan caused trouble after taking a little stroll along the tarmac.
The turtle, spotted at Japan's second-busiest airport, weighed just over 2kg and was seen moving slowly on the runway.
A pilot preparing to take-off, at Narita international airport, near Tokyo, contacted air traffic control.
The reptile was removed by staff with a net and caused delays of 15 minutes.
Well that's turtle-y crazy...but they're not the only one to find a new home in a strange place...
An owl in a Christmas tree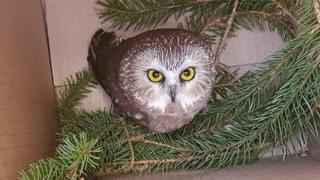 Ravensbeard Wildlife Center
You've probably heard the classic Christmas song When Santa got Stuck up the Chimney, but how about swapping Santa for an owl...and chimney for a Christmas tree?
A saw-whet owl was discovered inside a huge festive Norway spruce, by workers transporting the tree to put it up outside the famous Rockefeller Center in New York.
The tiny owl was then named Rockefeller and was looked after in a wildlife centre until he was well enough to be released back into the wild.
It's thought Rockefeller was inside the tree when it was cut down and travelled the 170 miles to the city centre in it.
Ellen Kalish, who looked after him at Ravensbeard Wildlife Center, gave the owl plenty of fluids and "all the mice he can eat" after his three-day road trip.
Despite him looking so small, Rockefeller is actually a fully grown adult.
The frog in a bunch of bananas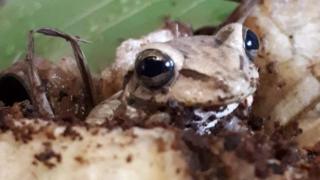 RSPCA
This little frog ended up taking a surprise 5,000 mile trip, when it was discovered hiding in a bunch of bananas at a supermarket in Llanelli, in Wales.
It's thought the frog originally came from Colombia, where lots of bananas are grown, before being transported to be sold to the UK.
The frog, which has been nicknamed 'Asda', was then cared for by specialists in Pembrokeshire.
Amphibians, like frogs, are pretty clever, they can slow down their metabolism in certain environmental situations, meaning they don't need to eat or drink for a long period of time - scientists think this is how 'Asda' survived the long journey.
Spider family in a bunch of grapes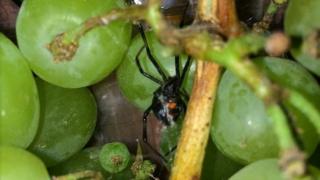 Geoff Grucock
A nest of black widow spiders was found inside a bunch of grapes at a supermarket in Warwickshire.
A spokesperson from Nuneaton and Warwickshire Wildlife Sanctuary, which went on to look after the arachnids, said the fruit had come from Mexico.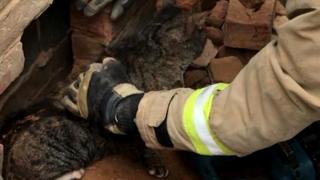 RSPCA
This little tabby cat decided to press 'paws' on daily life by taking up home in a six-inch gap in a wall in a house in Essex.
Nobody knows how he managed to squeeze into such a small space but RSPCA officers had to demolish the wall to get him out.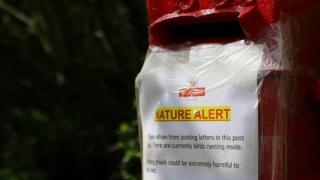 A pair of blue tits moved into a post box in Essex back in 2016.
Royal Mail put up a notice asking people to use other post boxes in the area after the birds were spotted inside.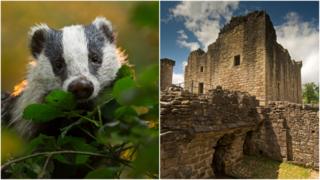 Getty Images
Staff at Craignethan Castle in Scotland got a bit of a surprise when a badger decided to set up camp in a cellar tunnel.
They were forced to close the tunnel while they persuaded the badger to come out.
Aww, sounds like he just wanted some 'me time'.
Feathery friend on a footpath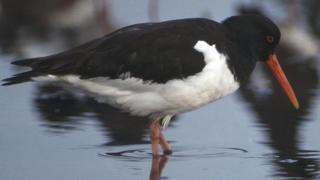 RSPB
A footpath in Norfolk unveiled by Sir David Attenborough was forced to close just three days after opening, because a bird made its nest there.
An oystercatcher liked "Attenborough's Walk" so much that it decided to move in.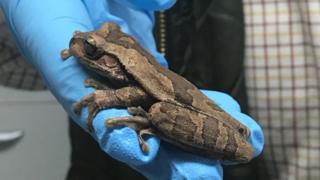 RSPCA
Another frog who took a surprise holiday was this tree frog from Costa Rica!
He turned up in a bunch of bananas at a supermarket in the UK in May 2019, more than 5,300 miles (8,500 km) from his rainforest home.
Staff at the Nottingham Lidl supermarket named the frog Lloyd, and he was passed on to a vet who specialises in exotic animals to be looked after.