Can you guess which footballer has scored more goals than Cristiano Ronaldo and had a 32-year career that included playing in the first England international?
No? Well, there's a good chance you've never heard of the footballer Lily Parr.
Lily, who died aged 73 in 1978, played professionally in the 1920s. A life-sized statue of the football legend was added to the National Football Museum last year and the museum will now be introducing a new permanent gallery dedicated to Lily's life and legacy.
"I think that people may have heard the name Lily Parr and that she played football.
But many have no real understanding of her dramatic story or influence. And more importantly, how her story fits into the narrative of women's football," said Belinda Scarlett, who is a curator of Women's Football at the National Football Museum.
"The impact and legacy of women like Lily on the development of women's football regionally, nationally and internationally, is highly significant and under-represented."
The gallery is set to open in Spring 2021.
In 2002, Lily became the first woman to be inducted into the National Football Museum's Hall of Fame.
And, in 2019 Lily also became the first female footballer to be celebrated with a statue in her honour in the UK.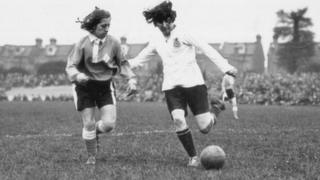 Getty Images
The former Dick, Kerr Ladies FC striker scored a whopping 986 goals in her career.
That's about 280 more goals than Cristiano Ronaldo has managed!
In her debut season as a 14-year-old, she scored 43 goals - Kylian Mbappe's first full season with Monaco saw him score only 15 goals.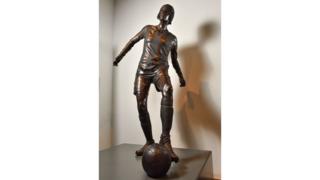 PA
Parr played in the first recognised women's international match between England and France when Lancashire team Dick, Kerr Ladies FC, represented the national England team.
They won the match 4-0 in 1920.
She also played for St Helens and Preston in a career that lasted an amazing 32 years.
When she wasn't bossing the football field, she trained as a nurse and worked in Preston's Whittingham psychiatric hospital.