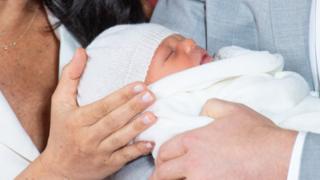 Getty Images
The Duke and Duchess of Sussex have revealed the name of their baby boy - Archie Harrison Mountbatten-Windsor.
The royal couple had introduced their son to the cameras earlier in the day giving the world a first glimpse of the baby, who was born early in the morning on Monday 6 May.
"It's only been two and a half days, three days," Prince Harry said, "but we're just so thrilled to have our own little bundle of joy."
The announcement of the baby's name came after the Queen and Duke of Edinburgh were introduced to their eighth and newest great-grandchild.
By deciding to call their son Archie Harrison Mountbatten-Windsor, Harry and Meghan have chosen not to use a royal title for their son.
As the first born son of a duke, Archie could have become Earl of Dumbarton or have been Lord Archie Mountbatten-Windsor, but instead he will simply be Master Archie Mountbatten-Windsor.
Where does the name Archie come from?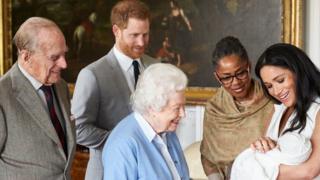 PA
Historically Archie was a shortening of the name 'Archibald', which means 'truly brave', but now Archie is a name in its own right.
Archibald isn't a very fashionable name these days but Archie is gaining popularity in the UK.
In Scotland, Archie was the 17th most popular name for boys in 2018, according to the National Records of Scotland, and it was the 18th most popular name for boys in England and Wales in 2017.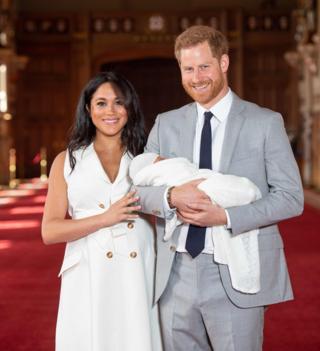 PA
The baby is now seventh in line to the throne.
That means he could only be king if the Queen, Prince Charles, Prince William, Prince George, Princess Charlotte, Prince Louis AND Prince Harry were all unable to rule.
So the chances of him becoming a king are very small!