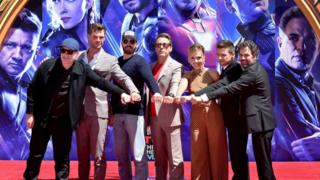 Getty Images
Avengers: Endgame is taking the cinematic world by storm and smashing records left, right and centre.
Not only did it make a record-breaking $1.2bn (£929m) in world ticket sales in its first week, but it's now been announced that it has enjoyed the biggest opening EVER for a film in the UK and Ireland, taking £43.7 million.
With the highest earning opening day - and any day - of all time at the box office, it has beaten records set by James Bond film Spectre and Star Wars: The Force Awakens.
It has also become the fastest film ever to break the $1 billion barrier, doing so in just five days.
The movie smashed its previous record of earnings, which was set by Avengers: Infinity War, which drew in $640m.
Endgame is the 22nd film in the Marvel Avengers series, starring heroes Captain Marvel, Captain America and Black Widow as they try to defeat Thanos.
The first Avengers movie Iron Man came out in 2008.