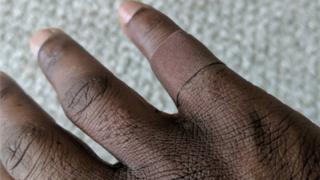 Dom Apollon
From plasters to ballet shoes, the world has seen a positive change in the way different skin colours are being represented in the things we use everyday.Are products becoming more inclusive?
In the past many companies had very limited or only one option for skin-coloured products, and this was usually designed for white skin tones.
This is partly down to something called white privilege, whereby companies didn't think about making products for other skin tones.
However, in recent years celebrities like Rihanna, and some companies have helped drive a change in the way that products reflect different skin tones.
Lots of people are happy about these changes, but many feel frustrated that it has taken so long for these changes to happen, and that more can still be done.
Take a look below to find out more...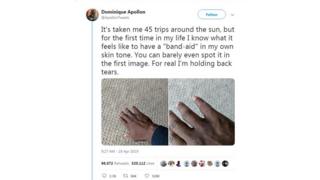 Twitter/@ApollonTweets
Last year Dom Apollon from California in the US, tweeted that it had taken him 45 years to find a plaster which perfectly matched his skin tone.
His tweet was shared mare than 100,000 times and lots of celebrities supported him in arguing that darker-coloured plasters were hard to come by.
John Boyega from the Star Wars franchise said: "On film sets where we get cuts a lot, make-up artists have to paint it brown to get you picture ready."
Since then, supermarkets like Tesco and brands like Band-Aid announced they are making plasters in different skin tones, to better match people's skin colour.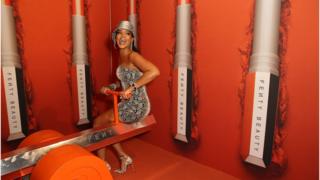 Getty Images
Make-up has long been a controversial subject, with many people arguing that companies don't have a wide enough range of shades to match people's skin colour.
Frustrated by the lack of make-up options for Black and Asian people, Rihanna launched her own range of make-up called Fenty Beauty in 2017.
When it was released, it hit the news because people where queuing outside shops for hours just to get hold of it.
She followed up her make-up launch with an underwear range which was similarly inclusive for all skin tones and body shapes.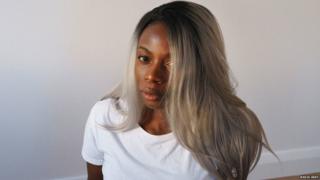 Nadia Gray
In the same year, a photographer called Nadia Gray convinced make-up company Maybelline to sell darker foundation in the UK after noticing that there were only six shades of the product available in the UK compared to 12 in the US.
She told the BBC that darker make-up products were a lot more expensive: "If you are someone with darker skin, it's like you're held hostage to just buy the expensive brands," she said.
Now, many companies sell make-up to match a wider range of skin tones, however many still feel there is a long way to go.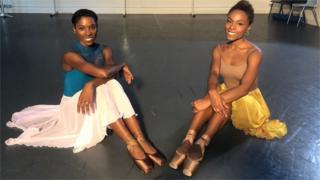 Until 2018, there were no companies in the UK making ballet shoes for darker skin tones.
Traditionally ballet shoes are made in a 'nude' colour, but for many years the only colour available was pale pink/peach in its appearance - meaning it only really matched white skin tones.
Some dancers would paint their shoes using make-up so that the colour would better match their skin, this process is called 'pancaking'.
But in 2018, a company called Freed got together with the Ballet Black dance group - whose dancers are all of black and Asian descent - to design a ballet shoe for people with darker skin.
Speaking to the BBC, Ballet Black dancers Cira Robinson and Marie Astrid Mence said the darker ballet shoes gave them a feeling of belonging. "You have the feeling that you are part of the industry of dance," they said.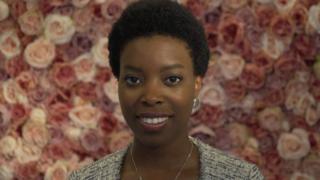 In 2014, businesswoman Ade Hassan launched fashion brand Nubian Skin.
She was frustrated and fed up with being unable to find tights or underwear to match her skin tone.
She said that the mainstream fashion brands made her feel invisible. So, she decided to create her own products, and sell them at an affordable price.
Since then Ade has gone on to sell her tights and underwear in more than 50 countries around the world.
In 2017, she was awarded an MBE by the Queen for her services to fashion.
However, many big name high-street shops still don't offer underwear or tights in different nude skin colours.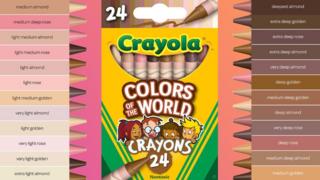 Crayola
Earlier this year Crayola revealed its Colours of the World crayons.
The 24 new shades are said to represent around 40 different skin tones.
The crayon company teamed up with makeup expert Victor Casale to help them find the right shades.
"We landed on rose for the pink undertone, almond for the neutral undertone, and golden for the yellow/olive undertone.", "This is exactly the science and treatment I have used to create global shade palettes for the beauty industry."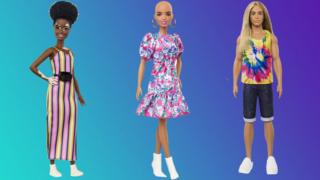 Mattel
Earlier this year Mattel - the company which makes Barbie dolls, released a doll which looks it has the skin condition vitiligo, and another who doesn't have any hair.
This is because it says it wants to "represent global diversity and inclusivity".
Barbie's makers are not the only toy firm trying to improve the way toys reflect society, other companies making changes include Playmobil, Lego and Lottie.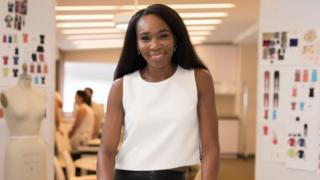 Getty Images
Pro-tennis player Venus Williams has teamed up with The Sunscreen Company and Credo Beauty to create a more inclusive suncream.
One of the problems with suncream is that it can leave white marks on your skin, which can be more noticeable on people with darker toned skin.
Venus' new suncream promises to "not to leave a visible residue" on your skin, as well as using ingredients that are more environmentally friendly.
"Safe for our planet and perfect for people of all skin shades and types, I hope to inspire others to get outside, be active and stay healthy." said Venus.