US President Donald Trump has arrived in the UK for a state visit.
His presidential plane Air Force One landed at London Stansted Airport on Monday morning at around 9:00am.
He will be staying here for three days in total and will be greeted at Buckingham Palace gardens as part of a special ceremony for heads of state (that means presidents, kings and queens).
Usually the guest would stay at the Palace, but due to building work being done, he will stay at the US Ambassador's residence Winfield House, which is near Regent's Park in central London.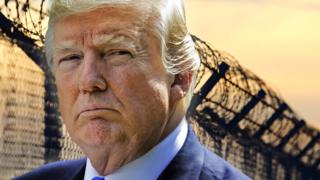 Getty Images
During his stay he will meet many members of the Royal Family including the Queen, the Duke and Duchess of Cornwall, the Duke and Duchess of Cambridge, and the Duke of Sussex.
There will also be a meeting with Prime Minister Theresa May.
The visit was announced by Buckingham Palace in April, but it had been a long time in the planning.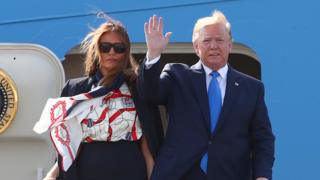 Reuters
The White House has said the upcoming trip would reaffirm the "steadfast and special relationship between the United States and the United Kingdom".
Prime Minister Theresa May said June's state visit was an "opportunity to strengthen our already close relationship in areas such as trade, investment, security and defence, and to discuss how we can build on these ties in the years ahead".
However, Trump's state visit to the UK is controversial due to his policies on things like immigration in the US. Many people in Britain have been critical of his plans to build a wall on the US-Mexico border, as well as his stance on climate change.
Here's everything that you need to know about Mr Trump's UK trip.
US President Donald Trump's state visit started on Monday 3 and finished on Wednesday 5 June 2019.
He will be joined by his wife US First Lady Melania.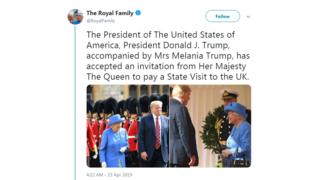 Twitter/@RoyalFamily
What will Donald Trump do when he visits the UK?
It is a traditional part of a state visit for the Queen to host a special dinner for the visitor.
So, on Monday evening, the Queen hosted a state banquet at Buckingham Palace for the president and his wife.
The Duke and Duchess of Cambridge attended, as will some important Americans who are living in the UK.
Around 150 guests were invited, with the Queen expected to make a speech and propose a toast to the visiting head of state.
The president will also be given a tour of Westminster Abbey today and he will meet Prince Charles and the Duchess of Cornwall for tea at Clarence House.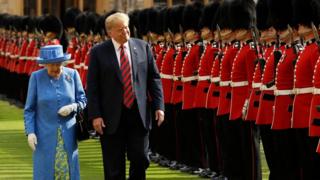 Getty Images
On Tuesday morning, President Trump and Prime Minister Theresa May had a business breakfast at St James's Palace with other important business leaders.
After this, he will move on to Downing Street for more meetings with Mrs May, followed by a joint press conference, at which both leaders will speak to the media.
It is traditional for state visits to include meetings between the visitor and the prime minister, government ministers and leaders of the main political parties.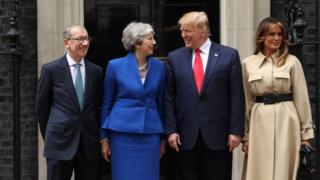 Getty Images
A visit to - and speeches at - the Houses of Parliament might also be on the schedule for the US President.
A spokeswoman for Commons Speaker John Bercow had said previously that a request for Mr Trump to speak to politicians in this way would be "considered in the usual way", but did not confirm if such a request had been made.
Mr Bercow has the power to refuse to allow such a speech to happen in the House of Commons. He has previously said he would be "strongly opposed" to Mr Trump addressing the Commons.
Foreign Secretary Jeremy Hunt, an important government minister who has said he will run put himself forward to take over from Theresa May, has said that he thinks that Mr Trump should address MPs during his trip.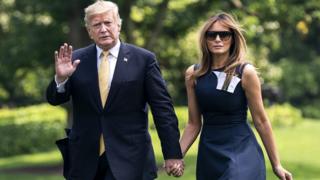 EPA
BBC royal correspondent Jonny Dymond explains that another key part of a state visit is a procession down the Mall in front of Buckingham Palace.
But Mr Trump avoided London on his trip to the UK in 2018 making it clear that he did not want to come to the capital if he would be faced with protests, which could happen at a Mall procession.
We also know that the president and his wife will be guests of the Queen to attend a ceremony on 5 June in Portsmouth to mark 75 years since the D-Day landings.
He will also visit Shannon in Ireland to meet Irish Taoiseach (Prime Minister) Leo Varadkar, before going to his golf course at Doonbeg, which is also in Ireland.
What do people think about Trump's visit?
People have different opinions about Mr Trump visiting the UK and the fact that he has been invited for a more formal state visit.
Prime Minister Theresa May has said it is a chance for the US and UK "to strengthen our already close relationship".
But others don't think that he should be given such a formal and important welcome.
Some UK politicians, including Labour leader Jeremy Corbyn, have already said they won't attend the special banquet in honour of President Trump.
Protests are due to take place in London, with anti-Trump campaigners planning on flying a controversial balloon - which shows Donald Trump as a baby holding a mobile phone - in the skies over London.
This happened last time he visited in July 2018, when demonstrations also took place.
Protesters are due to gather in Trafalgar Square in London at 11:00am on Tuesday.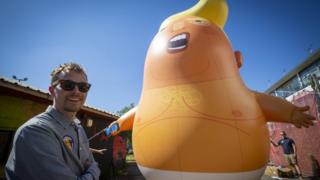 Getty Images
When Mrs May first invited Mr Trump for the state visit on behalf of the Queen back in 2017, it proved controversial with over 1.8 million people signing a petition calling for it not to go ahead.
People were angry after he came for a working visit in 2018, with police estimating their security operation cost nearly £18 million. Almost 10,000 officers from across the country were needed to provide extra security throughout the US president's four-day trip.
In February 2019, it was reported that Thames Valley, Essex and the Metropolitan forces were repaid a total of £7.9m by the government for hosting the president.