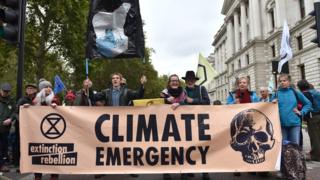 John Keeble/Getty Images
Members of environmental campaign group Extinction Rebellion have started a two-week-long protest.
In London, they aim to "peacefully occupy the centres of power and shut them down" and protests are also planned in 60 cities across the world, including Amsterdam, Berlin, New York and Sydney.
Their aim is to cause "major disruption", to encourage governments to do more to deal with the issue of climate change.
So far more than 1,400 people have been arrested in London, and over 70 people have been charged with offences including criminal damage and obstruction of a highway.
The Metropolitan Police have issued a statement on Monday 14 October banning the protests in London.
Police have been removing protesters from Trafalgar Square.
Find out more about who Extinction Rebellion are and what they want below.
Who are Extinction Rebellion?
Extinction Rebellion says they are an international activist organisation, which uses non-violent methods to encourage those in power to take action on climate and environment issues.
The original group, which calls itself "XR" for short, was launched in 2018 and says it now has groups in several other countries.
Their logo is an hourglass inside a circle to symbolise that time is running out for many species.
An international apolitical network using non-violent direct action to persuade governments to act on the Climate and Ecological Emergency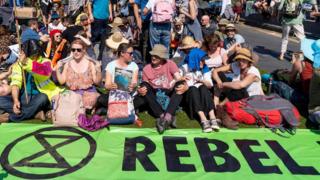 AFP / Getty Images
What do Extinction Rebellion want?
They have three demands which they want people in power to take action on.
They want the government to declare a "climate and ecological emergency" and work together with other institutions to help spread the message calling for things to change.
They want the UK to "act now" to stop loss of habitat and reduce carbon emissions to

net zero

by 2025.
They want a special group called a Citizens' Assembly to be put together. It would be made up of people from across society, to decide how to solve the climate crisis, with advice from experts.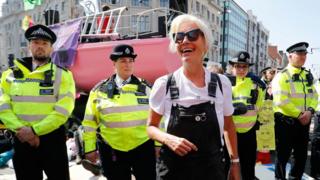 Getty Images
Some critics have said that the group's demands are unrealistic.
Researchers at the Centre for Alternative Technology said that it would be a huge challenge to get to zero emissions by 2025, but that they support ambitious goals.
Flights would have to be restricted and many people would have to drastically change their behaviour - for example, by eating less meat and dairy in their diets, or changing how they travel.
In order to get enough renewable energy to replace gas boilers, Britain would need thousands of extra wind turbines.
But group co-founder Gail Bradbrook says: "We have left it so late that we have to step up in a semi-miraculous way to deal with this situation."
What have Extinction Rebellion protesters been doing?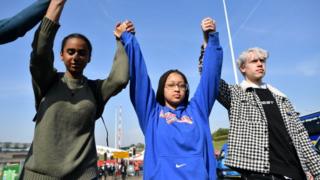 Getty Images
To highlight their message, members have glued themselves to trains, blocked traffic, chained themselves outside politicians' houses and planted trees on Waterloo Road in London. A small group also protested at Heathrow Airport, causing delays to some flights.
Eight Extinction Rebellion activists were arrested after spraying fake blood at a government building from the top of a fire engine.
There were also big protests back in April, and as a result 1,130 people were arrested - the majority because they did not move when police told them to. Some of London's busiest routes were brought to a complete standstill for more than 11 days.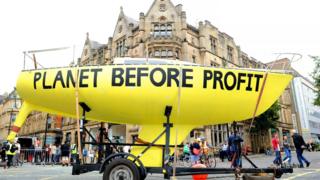 Getty Images
Back in July the group held similar protests, using five colourful boats to stop traffic in Cardiff, Glasgow, Bristol, Leeds and London.
And in August, the group held a big protest in Manchester. They wanted to expose the "huge contradictions" of a city that has declared a climate emergency while planning to massively expand its airport.
They planned for people to sleep in tents on the streets, creating a "canvas city", and a camp kitchen was set up.
A yellow boat with the words "Planet Before Profit" on it was parked in the street.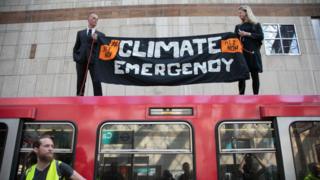 Getty Images
What have people said about the protests?
Home Secretary Sajid Javid has said the climate activists have "no right to cause misery" and the Met Police "must take a firm stance".
Ken Marsh, chairman of the Metropolitan Police Federation, said: "This is very, very difficult for us because my colleagues have never come across the situation that they are faced with at the moment."
"They are dealing with very, very passive people, probably quite nice people, who don't want confrontation whatsoever with the police or anyone else - but who are breaking the law."
Greta Thunberg joined the protests and spoke to a crowd gathered in the centre of London, saying "keep going - you are making a difference."
The group has been criticised not only for causing disruption, but also for wasting public money, after London police boss Cressida Dick said April's protests had cost the police an extra £7.5 million.
While it says it is a non-violent group, members have used more aggressive actions like smashing windows, saying that sometimes tactics like this are necessary, and it always makes sure not to put anybody in danger.
Extinction Rebellion says anyone who is annoyed by the protests should "find out more about the severity of the ecological and climate crisis".