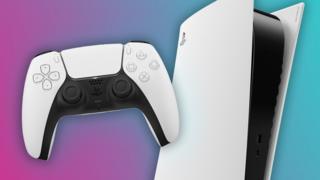 Sony
After being in development for nearly five years, Sony has started to release details about its next-gen console!
Sony's current console - The PlayStation 4 - has been on sale for nearly six years, which is quite a long time for consoles.
In a recent announcement Sony revealed the new design for the PS5, as well as the new DualSense controller which will pair with the console.
However Sony have been a bit slower than rivals Xbox at revealing details about the new console. As of yet we still don't know when it will be released or how much it will cost.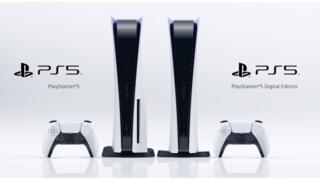 Sony
Sony recently revealed how the new console will look - and it's quite different to what they've done before!
The console and controllers will be black and white two-toned in colour, which is a first for PlayStation.
It's also pretty big! Sony are yet to reveal the official dimensions of the console, but some people have estimated that it could be the biggest PlayStation yet!
They are also releasing a Digital Edition which has no disc-drive, meaning you can only download games to play.
Speaking to the BBC, the company's boss, Jim Ryan, said Sony wanted to "provide a design that would really grace most living areas".
However the PS5 has received some criticism for the way it looks online, with some people saying it looks a bit like a wi-fi router.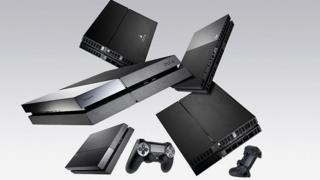 Getty Images
Ever since the updated PlayStation 3 came out, backwards compatibility is a feature that's been left out from new PlayStation consoles.
However it seems the PS5 will only be backward compatible with PS4 games. So, bad news if you're a retro gamer with a large collection of old games.
According to Sony's boss Jim Ryan, they are working on getting around 4,000 PS4 games ready so that they will work on the PS5, but that this takes a bit of time and a lot of testing.
The PS5's backwards compatibility does not seem to extend to the Playstation 3, PS2 or PS-One.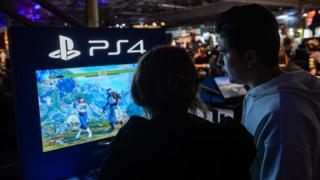 Getty Images
The new console will support 8K resolution, which means games and films in that format are going to look very, very nice. What that means is no jagged edges on graphics and lots of pretty colours.
There's also a lot of development going into audio on the new console too. They'll be using something called 3D sound technology, meaning games won't only look great, but sound great too!
The console also has something called a Solid State Drive, or SSD for short. That bit of hardware means your games will play at a much faster speed than they currently do on the Playstation 4. For example if you're playing Spiderman on the PS4, currently the fast-travel option will take about 15 seconds of loading time. On the PS5 that load time will be cut down to 0.8 seconds, and that's quick!
Sony
Sony announced the new controller design on their PlayStation blog.
Called DualSense the controller has lots of new features like 'adaptive triggers', a create button, and an in-built microphone.
However it has caused a bit of debate online over it's appearance, with some people loving the new design, and others saying it's a bit 'ugly'.
What games will be playable?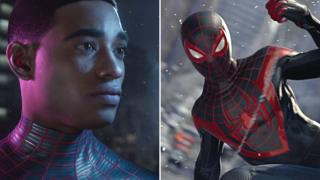 Sony
As well as revealing the design, Sony also showcased what new games would be heading to the console.
There was a lot of focus on the brand new Spider-Man game called Spider-Man: Miles Morales, which will focus on Afro-Latino teenager Miles Morales, who you may have seen in the Spider-Verse film.
There's also going to be a brand new Ratchet and Clank game called Rift Apart.
Racing car fans will be pleased as Grand Turismo is back for the seventh time, as well as a new battle racing game called Destruction Allstars which looks like a combo of Fortnite and Rocket League!
Sackboy also returns in A Big Adventure - a follow-up to the earlier Little Big Planet Games.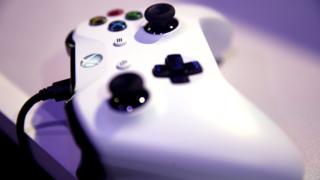 Getty Images
It has been ages since we last had a major console war - and who doesn't like a console war?
Both Xbox and PlayStation are planning to release their new consoles in time for Christmas 2020. But how do they compare?
Xbox have thrown down the gauntlet by offering more teraflops, and slightly more memory in their new console, the Xbox Series X.
However the PS4 outsold the Xbox One globally, selling 108 million consoles to Xbox's 49 million - although the gap was much closer in the US.
So the battle for the best console has started, and we'll only truly know who comes out on top, some time in 2020.