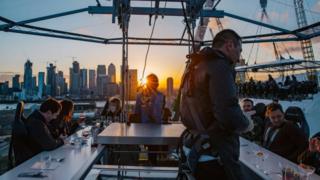 Twitter/LondonInTheSky
It's not every day you have to have a safety briefing and be harnessed into your seat before you eat your dinner.
But that's what you have to do in one London restaurant.
"London in the Sky" is a 22-seater table which is suspended 100 feet in the air above London's O2 arena - that's 30m up in the air!
But this isn't the only unusual place you can eat your dinner.
Pick your favourite from these!
If you cannot see the interactive activity on this page, click here.