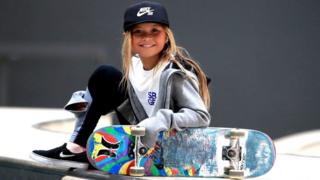 PA
Sky lives in Miyazaki in Japan with her mum, British dad and little brother Ocean.
She's a sporty 10-year-old who loves to dance, surf and most of all, skateboard!
The sporting superstar hopes to represent Britain at the Tokyo 2020 Olympics in skateboarding and surfing.
If she qualifies for her chosen sports, she would be the youngest ever summer Olympian at the Tokyo Olympics next year.
Skateboarding competitions are nothing new for Sky.
Last month she won a big skating competition in Estonia.
She was competing against some of the best skateboarders in the world.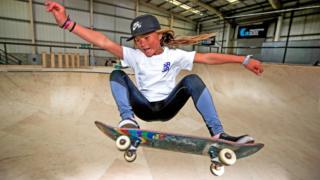 PA
Sky's used to being the youngest competitor. When she was eight she became the youngest person ever to have competed at the Vans US Open.
Successful Sky managed to place higher in the competition than women who were 20 years older than her!
And she's not just doing well at sports. Sky has got some pretty great moves too, which led to her winning Dancing with the Stars Juniors in America in December.
She has designed her own skateboard for charity and is the youngest person ever to have a Nike contract which means she appears in adverts and on huge posters in American Nike stores.
Whew! Is there anything she can't do? It looks like for this rising star the sky's the limit!