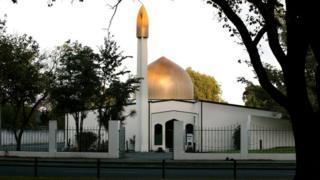 Reuters
Tributes are being paid after shootings at two mosques in the city of Christchurch in New Zealand.
The country's Prime Minister, Jacinda Ardern, described the incidents on Friday as a terrorist attack, and one of New Zealand's "darkest days".
Fifty people have died and another 50 were hurt.
A man has appeared in court charged with murder.
This type of attack is extremely rare in New Zealand. Gun violence there is much lower than many other countries, including the United States and Australia.
The shootings, which came around the time people were attending the mosques for Friday prayers, were the deadliest in the nation's history.
If you find what has happened in Christchurch upsetting, or if anything else in the news is making you feel sad, click here for advice.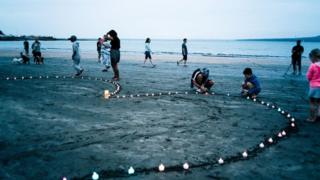 Getty Images
Tributes have been paid across New Zealand and the world to the victims of the shooting.
New Zealanders paid respects with a heart made of candles on Takapuna beach in Auckland at a gathering to remember those lost in the terror attack.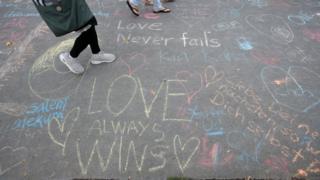 Getty Images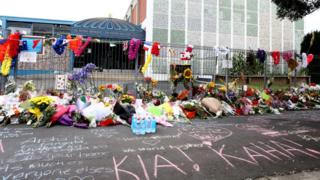 Getty Images
Many people have shown their love and support for those affected by leaving messages on the pavement outside the Botanic Gardens in Christchurch, where the attack happened.
Flowers have been left outside the two mosques involved in the attack in respect of those who were caught in the attack.
What else do we know about the attack?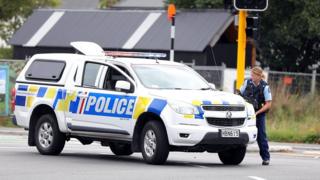 AFP / Getty Images
The shootings took place at two locations in Christchurch - the Al Noor mosque and the Linwood mosque.
Police earlier cleared the city's Cathedral Square, where thousands of children had been holding a rally for action on climate change.
It's believed only one gunman was involved in the attack.
Many people around the world have been sending their messages of support to those affected in New Zealand.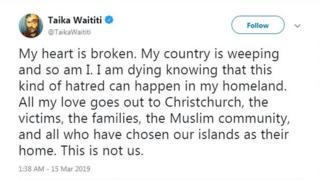 Twitter / Taika Waititi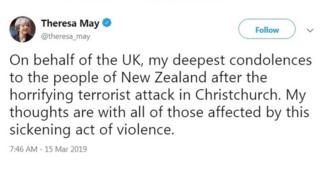 Twitter/Theresa_May
A statement from the Queen said: "I have been deeply saddened by the appalling events in Christchurch today. Prince Philip and I send our condolences to the families and friends of those who have lost their lives.
"I also pay tribute to the emergency services and volunteers who are providing support to those who have been injured.
"At this tragic time, my thoughts and prayers are with all New Zealanders."