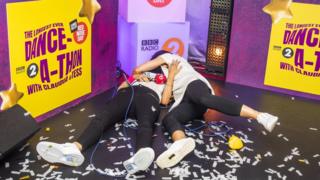 Presenters Tess Daley and and Claudia Winkleman have successfully finished a gruelling danceathon challenge for Comic Relief's Red Nose Day.
Their challenge was to dance non-stop for 24 hours, with as many celebrity friends as possible - including Newsround's Ricky and Leah!
The Strictly duo managed to raise £782,686 by dancing for an amazing 24 hours and five minutes.
Tess suffered from motion sickness for six hours of the danceathon, and afterwards said: "We are a bit tired and emotional."
They began the challenge on 11 March, ending it the following day with a weary performance of Destiny's Child's Survivor, before collapsing to the floor.
The danceathon was broadcast live on BBC Radio 2 and the BBC red button, with fans following every tired dance step.
Ricky and Leah weren't the only stars dropping in to support them. Great British Bake Off winner Candice Brown and former judge Mary Berry also turned up with sugary snacks to keep the stars on their toes.
I never want to dance again. I don't like movement.
It probably sounded like a fun idea at the start but not so much after a whole day on their feet. Thankfully the pair had each other to get them through, with Tess calling her co-presenter her "lifeline".
"She's had my back the whole way through. We've looked after each other. We've seen each other strapped up with tape. We both had a little cry," she said.
"We are a bit tired and emotional."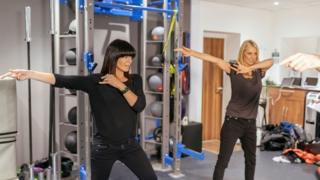 Comic relief
The epic dance challenge comes ahead of Friday's Red Nose Day fundraiser.
"Before we did this we went to see extraordinary projects that Comic Relief is supporting, so it was important to us [to do this]" said Winkleman.
"The tiniest amount of money makes the most enormous difference."