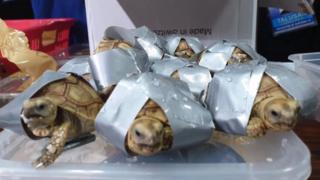 Bureau of Customs NAIA/Facebook
Police have rescued more than 1,500 live turtles and tortoises found wrapped in tape at an airport in the Philippines.
The reptiles, found in four pieces of luggage, could have sold for more than 4.5 million pesos, which is around £60,000.
Police believe the bags were left behind after the owner found out about the strict penalties for illegal wildlife trafficking in the country.
If caught, they could face two years in jail and receive a fine.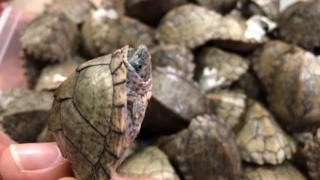 Bureau of Customs NAIA/Facebook
A total of 1,529 turtles and tortoises of different species were found in four bags at the airport in Manila on Sunday.
Some of the animals were of the rare Sulcata Tortoise species - which are recognised as vulnerable on the International Union for Conservation of Nature's Red list of Threatened species.
The Red-eared Slider turtle was also among the reptiles found.
The animals have now been handed over to the Wildlife Traffic Monitoring Unit to be looked after.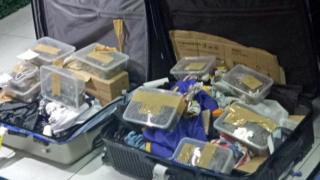 Bureau of Customs NAIA/Facebook
Tortoises are land animals while turtles can live on land and in water.
Both types of animal are often kept as exotic pets, but are sometimes also used as a form of traditional medicine or served as food across parts of Asia.
Stephanie Jayson from RSPCA - the animal welfare charity - told Newsround: "The RSPCA is opposed to the trade in wild-caught animals for the exotic pet trade, as these animals are taken from the wild and often transported long distances to then be sold as pets."
"People may buy them with little idea of how difficult they can be to keep and the animals are sometimes neglected when the novelty wears off and the commitment hits home.
"This is why we would encourage anyone thinking of getting an exotic pet - even if it is legal to buy in this country - to find out as much as possible from experts about the animal's needs and whether they're a realistic pet."