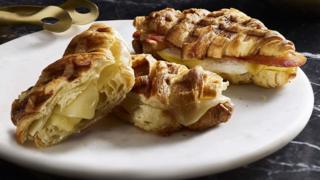 GODIVA CroiffleTM
Have you ever looked at your croissant and thought 'wow, I wish there were more waffle-shaped lines on this'?
Probably not, but it's a thing now anyway.
Introducing the latest hybrid food trend: the croiffle!
Equal parts croissant and waffle, the croiffle could answer all of the breakfast problems you didn't have, and fill a gap you didn't know was there.
But it's not the first weird food mixture around. How well do you know these food mash-ups?
If you cannot see the interactive activity on this page, click here.