Disney have released a new trailer for the live-action remake of Aladdin, and it's certainly got people talking online - mainly about the Genie.
When the previous trailer was released, some people weren't keen on Will Smith in the role, which was played by Robin Williams in the original film.
But it seems many people are now coming round to the idea, after enjoying his comedy antics in the latest trailer.
We also get a blast of some of the film's most famous songs and a closer look at the beautiful world of Agrabah.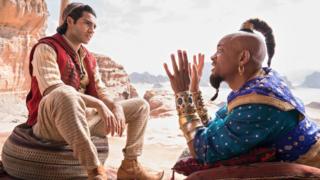 Walt Disney Studios
The film is being released in UK cinemas on 24 May 2019.
Is the trailer not enough for you? Here's what we know about the film so far.
Early images of the character have shown the Genie - played by Will Smith - with a natural skin tone, unlike the original cartoon version.
But someone in the Disney offices must be a big fan of the colour blue because the more recent trailers show Smith's lamp-dwelling character has returned to his former blue glory!