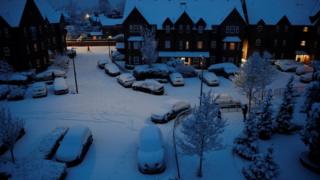 Reuters
Lots of snow has fallen all over the UK, with some parts of the country waking up to snow-covered streets.
The weather means that for some people travelling in to work and school will be a little tricky, with many schools telling students not to come in.
Airports in Liverpool and Manchester have had to temporarily stop flights in and out because of the weather.
Things could be set to get even colder with the Met Office - the UK's weather forecasting agency - expecting temperatures to plunge to at least minus 10 degrees Celsius in parts of the country.
The forecast to arrive on Thursday could break this winter's current record low of minus 10.8 degrees!
Official Met Office figures for snowfall on Tuesday showed the worst-hit areas were Tulloch Bridge in Inverness-shire with 11cm, and Spadeadam in Cumbria, with 10cm.
Do you have snow? Let us know and send us your snowy pictures or videos here and if you love snow try our quiz!
I think Scotland will probably be the coldest place but it's not out of the question we get into negative double figures in parts of England.
Yellow weather warnings for snow and ice cover the majority of the UK on Wednesday - with only a narrow sliver of the country north-east of Carlisle not affected.
Further warnings have been issued for Thursday when a new weather front comes in which could bring in more wintry weather.
(Wondering what a weather warning is? Here's the answer: Snow forecast: What is a weather warning?)
Here's what to watch out for:
On Wednesday, wintry showers will continue in Scotland, and northern and western England, but they are expected to fade throughout the day.

Overnight, frost and patchy freezing fog will be widespread leaving ice on the roads and on Thursday afternoon snow is expected in Wales and parts of southern England, with up to 15cm (6in) falling on higher ground

There's expected to be further snow showers across north-west parts of Scotland and Northern Ireland until 11:00 GMT on Wednesday.

Another warning, for south-east England, the Midlands, and East Anglia, continues until midday on Wednesday.

The Met Office said it expects rain and snow to move in from the south-west, moving across England and Wales on Thursday and Friday.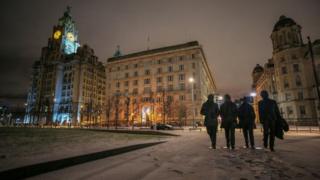 PA
The year's record low temperature, recorded in Braemar in Aberdeenshire on January 18 is likely to be beaten this week.
Benton in Oxfordshire and Santon Downham in Suffolk are among parts of England which could be coldest.
Met Office meteorologist Alex Burkill said: "I think Scotland will probably be the coldest place but it's not out of the question we get into negative double figures in parts of England."
Thursday will start off "very cold" as the weather system pushes eastwards from the south-west.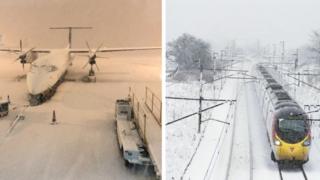 PA
The Met Office said there was a "slight chance" that some rural communities could be cut off and a "small chance" that power cuts may occur and mobile phone coverage could be affected.
Drivers are being warned against travelling in the worst conditions with RAC spokesman Simon Williams saying: "The worst cold weather travel chaos since last winter's Beast from the East is expected.
"If you must travel, pack a blanket, shovel and food in case you get stuck."
Police Scotland told drivers to plan ahead and make sure they have sufficient fuel and supplies such as warm clothing, food and water "in the event you are delayed for several hours".
There has already been significant snowfall in some parts of the Highlands and the snow gates on the A939 between Cock Bridge and Tomintoul were closed on Monday afternoon.