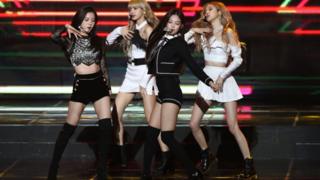 Getty Images
If BLACKPINK aren't already awesome enough, they've only gone and become the most watched K-pop band on YouTube.
Their video for catchy hit "Ddu-Du Ddu-Du" has overtaken BTS's epic "DNA" tune.
BLACKPINK's video has been watched a massive 625 million times, crushing K-pop boyband BTS who have only been watched 623 million times.
It's been a great few months for the k-pop super girl-group. They recently announced that they're bringing their tour to the UK and North America later this year.
But, if they want to become the most watched Korean act of all time, they'll have to get past GANGNAM STYLE. It's currently got over 3 billion views on YouTube.