Half of all horses in the UK are overweight, recent studies have shown.
A report by the Royal Veterinary College also found as many as 7 out of 10 ponies born here were also obese.
The British Equine Veterinary Association has warned horse owners that obesity is now one of the biggest problems facing horses in the UK.
Carrying too much weight for a horse can also lead to other health problems - in particular, a condition called Laminitis.
There are things you can do to help a horse who is overweight - find out more here.
Do we love horses too much?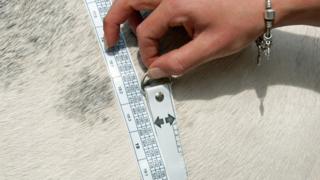 Getty Images
Overweight has become normal and horse owners no longer appreciate what a healthy horse should look like. Show horses are often obese, so this is what people aspire to.
Experts say that we love our horses so much that it might be that we're spoiling them.
Giving horses food can be a fun thing to do and a way to show you love them, but it might be causing more harm than good.
David Rendle, from the British Equine Veterinary Association, says that people do not always know what a healthy horse looks like because so many are now overweight.
If you are concerned about a horse or pony, make sure to speak to a vet.
They can help you figure out what you can do to get your horse to a healthy weight.
There are lots of ways to help your horse or pony. Check out some of the top tips below.