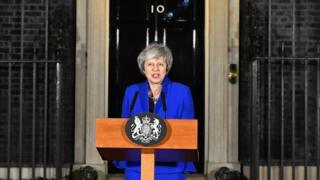 Getty Images
Prime Minister Theresa May's government has won a vote that could have seen her removed from power by just 19 votes.
The no confidence vote was called by Labour leader Jeremy Corbyn who had called them a "zombie" government.
Mrs May won with support from MPs who had voted against her the night before when Parliament voted on her Brexit plans.
After the vote the Prime Minister called on the different party leaders in Westminster to attend meetings with her.
She wants to work out how all the political parties might work together to find a solution to the current disagreements that have made things so difficult for the government.
However, Jeremy Corbyn, who's Labour party are the second biggest in Parliament, has said he wants a 'no-deal Brexit' to be ruled out.
So... what now?
The BBC's political experts believe the Prime Minster is going to have talks with all the different groups from Parliament today.
This will include different groups of her own MPs, members of opposition parties, and some groups which have people from all the parties. Yep... it's pretty complicated!
Mrs May has to present a new plan for how the UK will leave the European Union by January 21... that's Monday, so it could be a busy few days in Westminster.