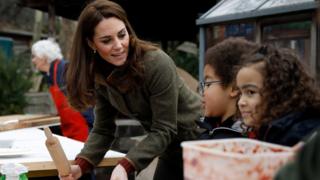 Reuters
The Duchess of Cambridge, Kate Middleton, has revealed she finds pepperoni on pizza too spicy, whilst on a visit to St Jude and St Paul's CE Primary School at King Henry's Walk community garden in north London.
Kate told the children at the volunteer-run garden that making pizza outside sounded 'like coolest thing ever' before she got stuck in with rolling out some dough herself.
When one of the children told her his favourite toppings were 'cheese and cucumber' the duchess was shocked saying: 'I've never had cucumber on a pizza before.' Neither have we..
One of the children asked if the Queen ate pizza and the Duchess admitted she didn't know, but would ask her.
That got us thinking about your favourite pizza toppings.
Do you love a unique combo, like cheese and cucumber, or are you more of a margarita and peanut butter person?
Get in touch or send your toppings in here