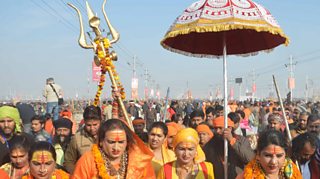 What is Kumbh Mela?
Millions of people will bath in India's sacred Ganges and Yamuna rivers as part of the Hindu festival of Kumbh Mela.
It's the biggest peaceful gathering in the world with over 120 million people expected over the next 49 days.
Hindus believe the water from the river will rid them of sin and save them from any future evil.
The location of the festival is chosen solely by the position of the sun, moon and Jupiter according to Hindu astrology.