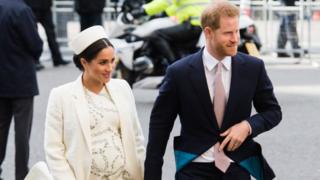 Getty Images
The new royal baby is here - and it's a boy!
The Duke and Duchess of Sussex announced the news on their Instagram account.
The post said: "We are pleased to announce that Their Royal Highnesses The Duke and Duchess of Sussex welcomed their firstborn child in the early morning on May 6th 2019."
Prince Harry spoke to the media outside his house Frogmore Cottage.
He said they were both "absolutely thrilled". He said the baby was "a very healthy boy" and he thanked the public for their support during the pregnancy.
Harry also said it had been an amazing experience and that Meghan and the baby were doing "incredibly well".
Harry said they were still thinking about the name. He said they would share it when they make an appearance as a family with the baby boy in two days' time.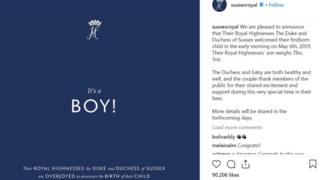 Instagram/Sussexroyal
Their son will come behind Harry in the order of succession, making this baby seventh in line to the throne.
So how much do we know about the baby boy's future role? Read this and then test your knowledge about other royal babies at the bottom of this page.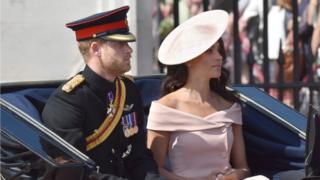 Will the child be a prince?
The answer is that he won't automatically be a prince.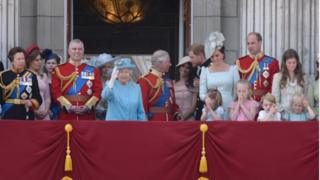 According to a ruling by King George V in 1917, only the eldest son of the Prince of Wales's oldest son (so that's Prince William's son, Prince George) was entitled to be called His Royal Highness (HRH) and a prince.
In December 2012, the Queen made new rules that said that ALL of William and Kate's children would hold the title of HRH and would be styled as princes and princesses.
So far, that ruling does not apply to Prince Harry's and Meghan's children. Some royal experts think he could be styled as Earl of Dumbarton, following one of Prince Harry's titles.
But the Queen might give Harry's child a totally different title, so we'll have to wait and see on that one.
Where will the baby live?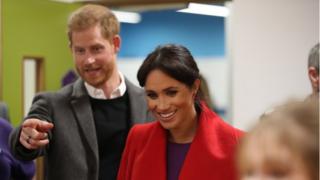 Alamy
Harry and Meghan moved house ahead of their baby's birth.
They left Kensington Palace to live in a new home in the grounds of Windsor Castle, where they got married.
The couple used to share Kensington Palace with lots of other royals. It is where Prince William, Kate, Charlotte and Louis live. But they've now moved to Frogmore Cottage in Windsor.
The name Frogmore comes from the frogs which have always lived in the low-lying marshy area.
What name will be chosen?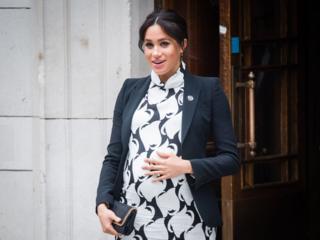 Samir Hussein
Good question!
Royal names are often influenced by other royals from history.
Top contenders are traditional names like Charles and James.
What do you buy a royal baby?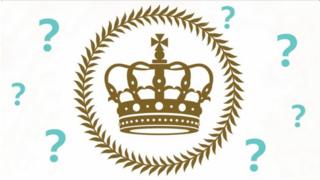 Getty Images
Harry and Meghan have already received loads of gifts for their baby.
They've been given everything from a pair of wellies to LOTS of soft toys (they've got more than 90 of them already!).
The presents are all on a list of official royal gifts to members of the monarchy.
Some of the more unusual gifts include a child's lifeguard outfit and a wetsuit for when the child is older.
Former One Direction singer Liam Payne has sent his best wishes to Meghan and Harry.

Twitter/LiamPayne
Prime Minister Theresa May has also sent her congratulations to the new parents.

Twitter/theresa_may
Former First Lady Michelle Obama said she couldn't wait to meet the new baby!

Twitter/MichelleObama
Meghan's friend and former co-star Patrick J. Adams also sent his best wishes to Meghan and Harry.
Patrick used to play Meghan's husband in Suits, the American TV series she used to star in.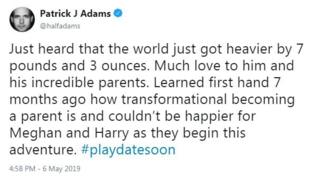 Twitter/halfadams
Do you have a message for The Duke and Duchess of Sussex? What do you think the baby will be called?
Let us know in the comments section below:
Now, test your knowledge about these other royal babies.