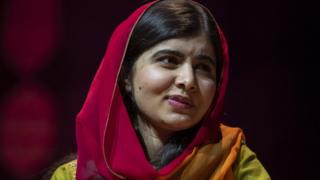 Getty Images
Malala Yousufzai is a campaigner for girls' education from Pakistan.
She was shot by the Taliban in 2012, when she was just 14 years old, but continued her work and became the youngest person ever to win the world-famous Nobel Peace Prize.
What did Malala fight for?
As a young girl of 11, the Pakistani student wrote an anonymous diary about what life was like under the rule of an extreme group called the Taliban in north-west Pakistan.
In the diary, she talked about how she wanted to stay in education and about how girls should be able to go to school. The Taliban wanted to ban girls' education. Lots of people read the diary all over the world and she became well-known for fighting for her right to an education.
But the Taliban didn't like this. And because of what she said in her diary - in October 2012, she was shot by their soldiers.
The world was appalled by what happened to Malala and she quickly won the support of millions more people.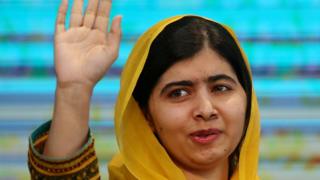 Reuters
She was treated for her injuries in a hospital in Pakistan and then brought to the UK for more treatment. After many weeks Malala was finally able to leave hospital.
Her father got a job in UK and Malala and her family settled in the city of Birmingham, where she soon started a new school.
Newsround has been following Malala's story since she hit the headlines in 2012 - and made a special programme about when she started a new life in the UK in 2013.
Soon after leaving hospital, Malala launched an education fund called the Malala Fund to help girls around the world receive an education.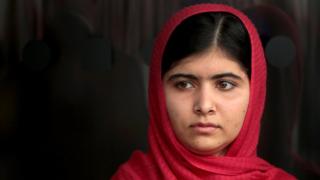 Getty Images
In 2013, on her 16th birthday, she gave a speech at a meeting of the United Nations (UN) - where leaders from most countries around the world meet.
It was a big deal and she spoke about her passion - the importance of being able to get an education.
Keeping her links with the UN, in 2017 she was made the youngest ever UN Messenger of Peace.
When did Malala win the Nobel Peace Prize?
In 2014, she became the youngest ever winner the Nobel Peace Prize. She shared the prize with Indian child rights campaigner Kailash Satyarthi.
It's a huge honour and is given out every year to people or organisations who have achieved amazing things in to help people in the world.
Previous winners include former US president, Barack Obama, and former South African president, Nelson Mandela.
She is currently studying Philosophy, Politics, and Economics at the University of Oxford and continues to campaign for girls education.
In 2018, Malala returned to her home town in Pakistan. It was the first time she'd been back since being shot there in 2012.