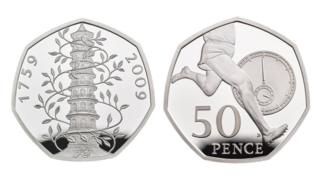 PA
It's a very special birthday for a very special coin!
The 50 pence coin turns 50 years old in 2019 and the Royal Mint, who make the UK's money, are celebrating by releasing some very special commemorative editions of the seven-sided coin.
The 50p coin was introduced in 1969 and the commemorative coins mark events including Sir Roger Bannister running the first sub four-minute mile and the 250th anniversary of the founding of Kew Gardens in London.
The founding of the Scouts and Girl Guides is also celebrated in the set.
The coin celebrating the 250th anniversary of the founding of Kew depicts the gardens' Great Pagoda, which was completed in 1762 as a gift to Princess Augusta.
With only 210,000 coins produced, it is the rarest 50p coin in circulation.
If you cannot see the interactive activity on this page, click here.