From swings to seesaws, everyone has a different opinion of what makes a playground fun.
But once you've scaled the belly of a sperm whale or tunnelled away from a plane suspended in the sky, it might be hard to go back!
These are some of the coolest, most creative playgrounds from around the world.
Comment below to let us know what your dream playground would be like - it could be anything!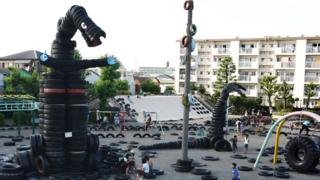 Getty Images
Tire Park in Tokyo has everything you'd expect in a standard playground - sand, swings, climbing frames, oh, and a giant dinosaur!
The park - built mainly with recycled car tyres - encourages kids to climb, slide, and explore, while the amazing sculptures of robots, spaceships, and Godzilla offer a shady place to rest for when visitors get wheely wheely tired.
Cosmos Playground, Russia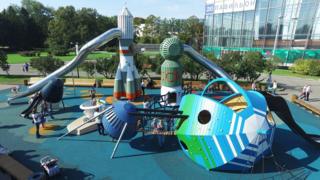 Monstrum
If you've ever dreamt of being an astronaut (or cosmonaut, which is what Russian astronauts are called), this one is for you.
The Cosmos playground in Russia was built to allow kids to journey through the amazing history of the Russian space program, with tunnels and satellites to explore, and a rocket slide like no other. You can meet the dogs who took the plunge first (in playground form, naturally). Looks like you'd have a blast!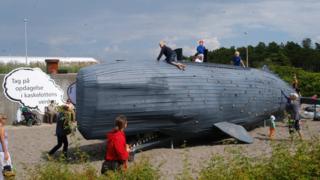 Getty Images
Whale whale whale, what do we have here? In Hirtshals, Denmark, nothing says playtime quite like climbing into the belly of a giant sperm whale.
With ladders, climbing walls, and a dose of imagination, kids playing here can explore inside of the creature, from its tail to its head, before taking the slide out and tackling the stepping stones and wave-themed zip wire. Sounds like a… whale of a time (sorry!)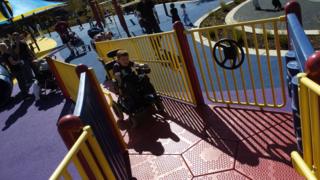 Getty Images
Virginia, USA is home to Clemyjontri Park, a colourful playground designed to allow kids of all abilities to play together.
Adjusted swings, monkey bars, and ramped areas mean that children who use wheelchairs or walking aids, or have sensory or developmental issues don't have to miss out on an afternoon in the playground with their friends.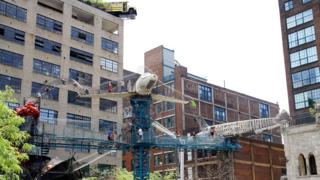 Getty Images
If you're lucky enough to visit the City Museum in St Louis, USA, the sky-high play area might whisk you away!
Crawl through tunnels to play inside the former aircrafts, hold your breath down the slides, and try to find your way to the tree house. There's even a Ferris wheel, if you're feeling brave enough.
Have you got a favourite playground? What makes it amazing? Comment below and let us know.