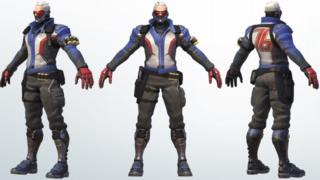 Overwatch / Blizzard Entertainment
There's a new LGBTQ character in the Overwatch universe, called Soldier: 76.
Game developer Blizzard Entertainment published a back story of the popular game's new character, which included that he once had a boyfriend named Vincent.
The story, titled "Bastet," includes a scene in which Ana and Soldier: 76 (real name John Francis "Jack" Morrison) talk about the past.
Overwatch / Blizzard Entertainment
Ana spots a photo of a much-younger Soldier: 76 with his arm around a man called Vincent.
Talking about Vincent is described as a "touchy subject" for Jack who says that Vincent later got married and that he is happy for him.
Soldier: 76 isn't the only LGBTQ Overwatch character. In a previous comic titled "Reflections," fans learned that Tracer has a girlfriend named Emily.
Overwatch has made an effort to be one of the most diverse video games in the industry. However, it has met criticism in the past for not including any black female playable characters.