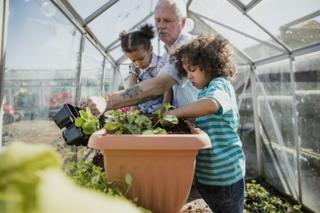 Getty Images
Children who regularly mix with older people have better language, reading and social skills.
That's according to a report by United for All Ages, who say bringing young and older people together can help tackle some of the big social problems facing the next generation.
Let us know in the comments below if you spend time with elderly people and what you get out of it.
Or your class can email us at newsroundschools@bbc.co.uk.
Tell us why you think it is important, what do you suggest doing and what do you think it will achieve.
What does the study say?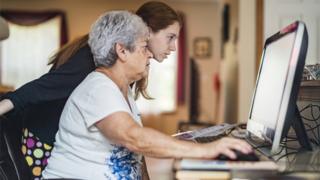 Getty Images
It claims study says that poor health, anxiety, loneliness and educational success can all be helped by having different generations mixing more.
Projects with older and young people can also boost confidence, skills and opportunities for children while changing attitudes towards ageing.
What does it say should happen?
The report makes 8 big recommendations, including:
1. Every nursery, childminder, parent/toddler group and children's centre should have links with a local older people's care home or housing scheme.
2. Every primary and secondary school should involve and engage with older people in their community - including having older volunteers in school classrooms and visits to care homes.
3. Every community should explore opportunities to develop places where younger and older people can mix and share activities and experiences - creating 500 centres for all ages where people can meet by 2023