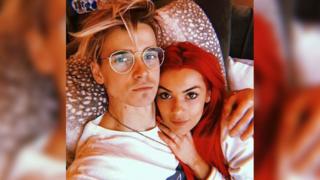 Instagram/joe_sugg
Social media users have gone wild for this photo of Joe Sugg and Dianne Buswell, after eagle-eyed fans noticed a ring on a certain finger.
YouTube star Joe posted the photo with the caption: "Last day of chillin with this one before we start the tour! 🤟🏼❤️"
But it wasn't long before fans noticed something about it.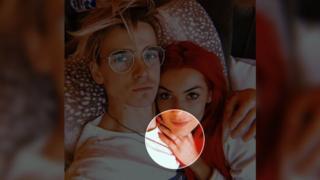 Instagram/joe_sugg
In the picture, there is a ring on the fourth finger of her left hand, which is traditionally where an engagement ring would be worn.
"Is that an engagement ring on her wedding finger😱😱😱" said one user.
"Either the photo's been reversed or Dianne Buswell has a ring on her ahem, ring finger," said another.
Joe and Dianne became a couple after dancing with each other on the most recent series of Strictly Come Dancing.
Neither of the pair have commented on the picture so far, so we'll have to wait and see if there really is any truth to this - or if she just likes wearing a ring here!