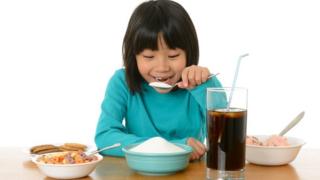 Getty Images
Health experts are warning that too many kids are eating the same amount of sugar as adults.
Public Heath England, who are a group in charge at studying how healthy the whole country is, say some children in the UK eat more than maximum recommended sugar intake for an 18-year-old by the time they are 10.
According to the study, children are eating about eight extra extra sugar cubes a day or 2,800 cubes too many each per year.
They say the government should think about a "pudding tax" if companies fail to reduce the amount of sugar in their products.
Try our sugary quiz and let us know how you get on in the comments below:
If you cannot see the interactive activity on this page, click here.
The recommended daily maximum of sugar for children aged four to six is five cubes or 19g.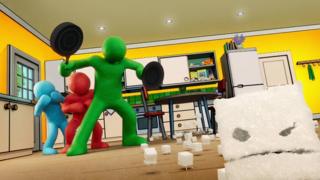 Public Health England
For children aged seven to 10 this rises to six cubes (24g) and up to seven cubes (30g) for those aged 11 and over.
However, UK children are consuming around 13 cubes or 52g of sugar a day.
Half of the sugar in children's diets comes from sugary drinks, sweets, biscuits, cakes, puddings, sugary breakfast cereals and higher-sugar yoghurts and puddings.
Ways to cut sugar
The organisation also wants families to cut back to help tackle obesity, tooth decay and other illnesses linked to too much sugar.
Here are some of their suggestions :
Swap a higher-sugar yoghurt (e.g. split-pot) for a lower sugar one
Swap sugary juice drink for a no-added sugar juice drink
Swap a higher-sugar breakfast cereal (e.g. a frosted or chocolate cereal) for a lower sugar cereal.