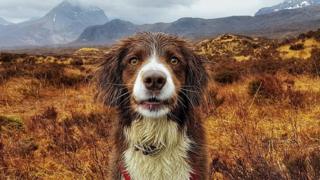 Kate Hunter
Eight-year-old Bodie is the UK's first ever avalanche rescue dog.
She can find people who get lost in the snow at Glenshee, a Scottish ski resort.
Bodie barks to let her owner, Kate, know someone is there, and comforts people if they're hurt.
We caught up with Kate and Bodie to find out more about this pawsome pet.
Age: 8 - this makes Bodie pretty old for a rescue dog - most start training at 6 months!
Breed: Collie cross springer spaniel
Likes: Bodie's a chilled out dog who loves a good sunbathe. And chillax!
Travel: Bodie likes to travel in style - by ski lift!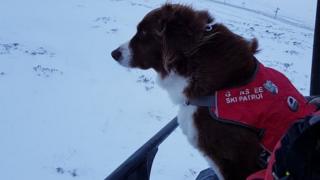 Kate Hunter
TV: She likes watching other animals on TV, especially bears. Weird, but okaaayyyyy....
Favourite food: When she's not nibbling on skis, Bodie's favourite things to eat are sausages and biscuits - not chocolate ones though!
Early life: When she was nine months old, Bodie fell in a hole. She spent a whole night there before being rescued. Maybe that's why she wants to help others in similar situations!
Career: Bodie's been a qualified avalanche rescue dog with the Search & Rescue Dog Association Scotland for seven months now. She loves running and helps Kate open up the ski hills in the morning.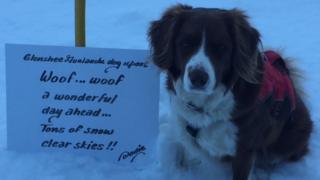 Kate Hunter