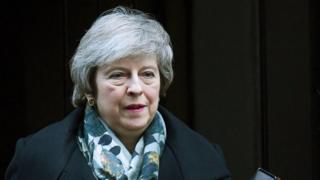 EPA
More than two hundred MPs have signed a letter to Prime Minister Theresa May asking her to rule out a no-deal Brexit.
The MPs are from different political parties and want to protect jobs and manufacturing.
They have been invited to meet the prime minister on Tuesday. Theresa May is trying to gain support for her withdrawal deal with the EU ahead of a vote in Parliament next week.
However, if her deal isn't backed by MPs, there is the possibility of a 'no deal Brexit'.
What is a no deal Brexit?
A no deal Brexit means the UK would leave the European Union (EU) immediately on 29 March 2019, and there would be no agreements in place about what their relationship would be like in future.
This is not what anybody in Parliament wants, but it's a possible outcome if politicians can't agree on what should happen next.
So the government needs some plans in place (there are other Brexit outcomes which you can read about here).
What will happen in a no deal Brexit?
A no deal Brexit could lead to a number of things happening. For example:
Border checks could be re-introduced

Transport and trade between the UK and the EU could be severely affected

Adults may not be able to drive in EU countries without a special driving permit

It could cost more money to use your phone abroad in EU countries

It would mean no transition period, which is part of

the deal that Prime Minister Theresa May is proposing
In November last year, Mrs May refused to rule out a no deal Brexit if Parliament voted against her deal, but Labour leader Jeremy Corbyn told ITV that "nobody is going to allow 'no deal'".
Brexit Secretary Stephen Barclay has said the cabinet had agreed that "preparing for a no deal will be an operational priority within government but our overall priority is to secure a deal".
What is Theresa May's deal?
Mrs May's Brexit deal includes the following:
The

EU withdrawal agreement

, which sets out what will happen when the UK leaves the EU on 29 March 2019

An accompanying

political declaration

, which outlines what the UK's relationship with the EU will be like once a special period of transition comes to an end, which is currently due to happen at the end of 2020
It will only come into force if both the UK and European parliaments approve it. The UK Parliament has not done this yet. MPs will be voting to approve or reject it in the week beginning 14 January 2019.