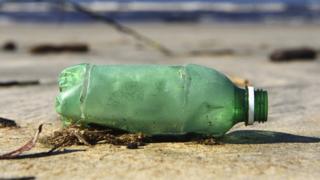 FernandoPodolski
How would you feel about paying a bit extra to buy things in plastic bottles - and then getting this money back again if you recycle it?
This is what the government wants to do in the future, when you buy items like bottles, cans and disposable cups.
It's part of a new plan that aims to change the way we deal with our waste from the home to the workplace.
Packaging will also have to be more clearly labelled to show if it can be recycled.
As part of the plan, businesses and producers of packaging will have to pay the full cost of collecting and recycling the plastic they've made.
Supermarkets could be given fines if their packaging is very difficult to recycle, but would be charged lower fees for packaging that was easy to reuse or recycle.
The idea of the plan is to make the "polluter pay".
This waste strategy is set to come into force in 2023, and will be open to consultation in the new year.
How would the bottle deposit return scheme work?
Countries like Norway already have a system like this, where you have to pay a bit extra to buy things in plastic bottles.
Then, once you've finished with the bottle, you put it into a special vending machine.
The machine then gives you a voucher for money back.
It seems to be working - as Norway recycles 97% of all its plastic bottles.
Some environmental campaigners in the UK have raised concerns about what the possible cost of installing the "reverse vending" machines would be.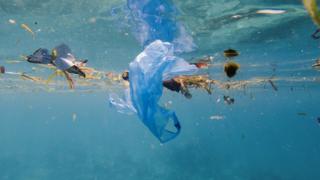 Getty Images
It's designed to help tackle climate change, protect resources and reduce the flow of plastic to the ocean.
The last waste strategy was introduced 11 years ago and since then concern has boomed over climate change, the oceans and the way we use resources.
Rotting waste is a major producer of greenhouse gases that are over-heating the planet, and plastic litter is killing marine life.
Environment Secretary Michael Gove said: "Our strategy sets out how we will go further and faster, to reduce, reuse, and recycle. Together we can move away from being a 'throw-away' society, to one that looks at waste as a valuable resource."
What has the reaction been?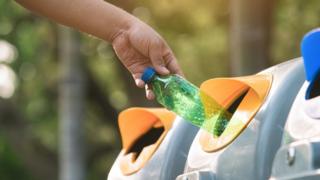 Getty Images
Councils fear that if aluminium cans are part of the deposit scheme they will no longer appear in household bins.
This is bad for them because they make councils the most money from recycling.
There are also concerns that major retailers will persuade the government during its consultation stage to leave out large drinks bottles from the deposit return scheme.
The British Retail Consortium says most of the problem with beach litter is "on-the-go" containers, not one litre bottles from supermarkets.
Libby Peake from the Green Alliance says: "There's a lot of good in the policy - it's on the right lines. But we need to see the detail of exactly how things will work."