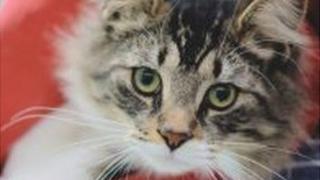 Montreal SPCA
A cat in Canada has been reunited with its family for Christmas after being put in the post by mistake.
Baloo appears to have crawled into a parcel his owner was packing and got stuck inside.
The cheeky cat, who lives in Nova Scotia, was then sent 750 miles away to the Canadian city of Montreal.
After a journey of around 17 hours, a parcel company spotted Baloo and took him to a local animal rescue centre.
From there his owners were tracked down and Baloo is now back at home safe and sound.
That's what we call a purr-fect ending to this story!