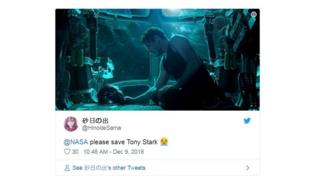 Twitter
Avenger's fans have been trolling Marvel Studios to cut poor Tony Stark - better known as Iron Man - a break.
Since the movie trailer to the new film Avengers: Endgame was released last week, fans have been pleading with Nasa to go save Tony from the dark recesses of outer space.
For those unaware, after the events of Avengers: Infinity War, Tony is shown to be stranded with no way of returning to Earth and the trailer to the new flick reminds fans of Iron Man's desperate situation.
So it came as something of a surprise when Nasa actually responded with advice for the stranded superhero.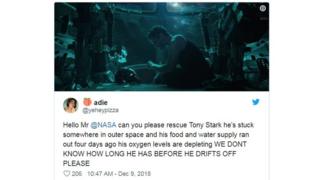 Twitter/ Marvel Studios
Nasa did offer a solution to save Tony Stark and Marvel Studios replied to them: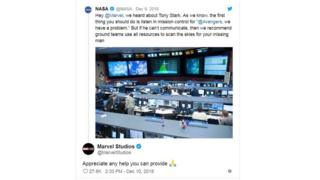 Twitter
Surely with all the resources on Earth someone somewhere will save Iron Man from his terrible fate..?
We'll just have to wait and find out when the eagerly anticipated movie hits the big screen in April 2019.