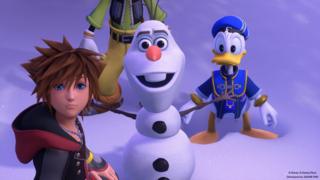 Disney / Disney Pixar / Square Enix
Are you a Kingdom Hearts fan? Then look no further because the new Kingdom Hearts III game is out in the new year.
Set across a range of magical Disney and Pixar worlds, the final chapter in the Dark Seeker saga takes players on a fantastic adventure following the main character called Sora.
Sora is joined by Donald Duck, Goofy and other friends to stop an evil force known as the Heartless from taking over the universe.
Ahead of its worldwide release on 29 January 2019, we've put together a list of the top five things you need to know about the game.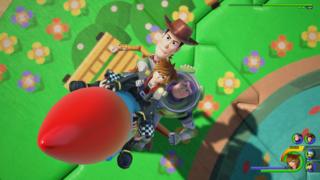 Disney / Disney Pixar / Square Enix
Game director Tetsuya Nomura has confirmed that the game's story will start straight after the ending of 'Kingdom Hearts 3D: Dream Drop Distance'.
During the Kingdom Hearts III adventure, players can expect to team up with many iconic characters, some of which will be new to the game.
New characters announced so far are: Buzz and Woody from Toy Story; Rapunzel and Flynn Ryder from Tangled; Mike and Sully from Monsters Inc; Elsa, Anna and Olaf from Frozen; and Baymax and Hiro from Big Hero 6.
There are also returning characters that appeared in previous Kingdom Hearts titles, including: Jack Sparrow from Pirates of the Caribbean; Winnie the Pooh; and Hercules, Hades and Megara from Hercules.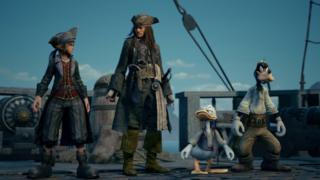 Disney / Disney Pixar / Square Enix
Some characters can team up with you through a special ability called 'link ups'. Each one has a special way of helping out during a battle, with unique powers that match their personalities.
These include Ralph from Wreck-It Ralph, Ariel from The Little Mermaid and Simba from The Lion King.
In addition to larger environments to explore, players will now be able to have five characters in a party at once, with two guest characters joining the trio.
In previous games, the player had to swap Donald and Goofy for different characters, so now there are far more members of your team to help in battle.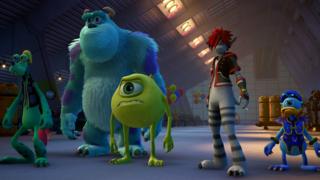 Disney / Disney Pixar / Square Enix
With every Kingdom Hearts game comes an wide range of contrasting worlds and levels. Kingdom Hearts III is no different.
Here's a rundown of the worlds that have already been announced on the new game:
Kingdom of Corona (Tangled)

Olympus (Hercules)

San Fransokyo (Big Hero 6)

Monstropolis (Monsters Inc. )

Toybox (Toy Story)

Arendelle (Frozen)
Each world's characters have special attacks unique to them. In Monstropolis from Monsters Inc, Sora can grab Mike and use him like a bowling ball against enemies.
In Toybox (Toy Story world) Sora, Buzz and Woody jump on a firework like the classic scene in the first Toy Story film, and ride it into crowds of enemies.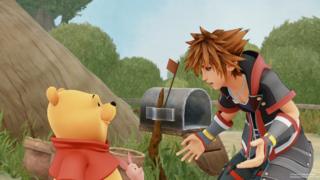 Disney / Disney Pixar / Square Enix
Continuing on from Kingdom Hearts II, Sora will be able to call upon his friends and use special combination attacks and moves.
Combat involves several key elements, the first is your keyblade - this is a large key-shaped weapon that is used by main character Sora to fight against the many enemies through the game.
There are different transforming keyblades throughout the game, and they come in many different styles. The Toy Story keyblade is made of a cactus and Woody's cowboy hat for the blade, and Buzz Lightyear's rocket ship for the handle - so each keyblade looks unique to the world it comes from.
You can also trigger Disney Attractions - these are theme park rides that you can use to help fight against the enemies. For example, you can call on the swinging pirate ship or the tea cup ride, or even the white water rapids ride, and each one has a unique way to help in combat.
Finally, magic has returned, with many different types allowing you to adapt your combat strategy to fit the enemy you're fighting.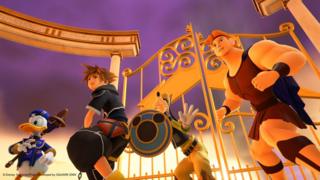 Disney / Disney Pixar / Square Enix
Kingdom Hearts III will use a different visual style to previous games in the franchise.
Game designer and director Tetsuya Nomura spoke about the new visual design, saying that this new direction was an attempt to "Express Disney's 2D brushwork in 3D."
Nomura said it's possible to get "a real feeling of evolution by just making the standard graphics into HD."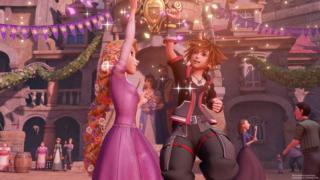 Disney / Disney Pixar / Square Enix
Fans can expect a brand new opening theme song to kick off the adventure.
DJ Skrillex, a long-time fan of the game, and singer songwriter Hikaru Utada have collaborated for the game's opening theme song, Face Your Fears.
The song will be released shortly before the launch of the game.
Are you excited about the new release? Let us know in the comments below.