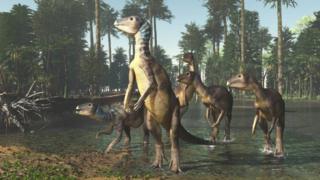 James Kuether/University of New England
Ever heard of the Weewarrasaurus dinosaur? Don't be surprised if you haven't, as the species has only just been discovered in New South Wales in Australia.
A fragment of jawbone, fossilised in a stone, was found at Wee Warra opal mine in a town called Lightning Ridge.
It's full name is Weewarrasaurus pobeni. It would have lived in the Cretaceous Period about 100 million years ago and is part of a group of plant-eating dinosaurs called ornithopods.
This group moved on two legs, had beaks with serrated teeth and roamed on the ancient floodplains which covered the region at the time.
a supremely rare and unlikely discovery
Lightning Ridge is unique because it is the only place in the world where dinosaur bones routinely turn into opal - a multi-coloured precious stone.
The Weewarrasaurus jaw is now part of the Australian Opal Centre collection, the world's most diverse public collection of opalised fossils.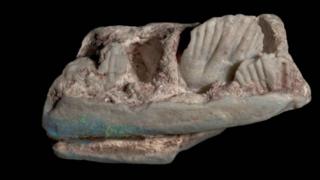 Robert A. Smith/University of New England