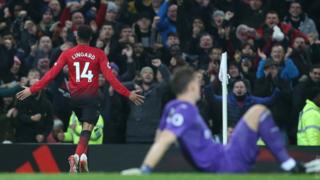 Twitter/@ManUtd/Getty
Can you spot the phone in this photo?
During their clash last night against Arsenal, Manchester United tweeted a photo of Lingard celebrating, with the caption: "Not a cellphone in sight. Just people living in the moment."
But you can always rely on social media to call you out if you've made a mistake - and that's exactly what Twitter did.
If you look more closely at the photo, you can see... there is a phone in there!
See if you can find it...
Did you find it?! Let us know in the comments below!
Or take this quiz to see which football celebration you would be?!