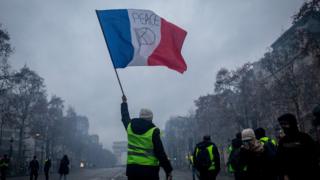 Getty Images
French Prime Minister Édouard Philippe has called for "national unity" after a fourth weekend of violent protests in the country.
Around 125,000 people took part in marches across France on Saturday, the interior ministry said.
Nearly 90,000 police officers had been put on the streets, including 8,000 in the capital city Paris where 12 armoured vehicles were also used.
Many people in France are angry about the cost of fuel and the rising living costs.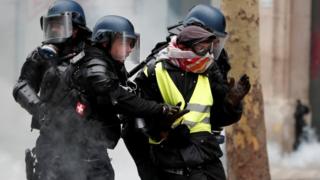 Reuters
Police used tear gas against protestors to try to keep order after protestors turned violent at demonstrations.
More than 1,700 people were arrested, but the violence was not on the same level as a week earlier, which is said to be some of the worst street clashes in the French capital for decades.
Mr Philippe said discussions with peaceful protesters must continue, and that French President Emmanuel Macron - who many protesters want to quit - will put forward a plan to help people talk to each other and fix the issues.
Read on below to find out more about the situation.
Why are people protesting in France?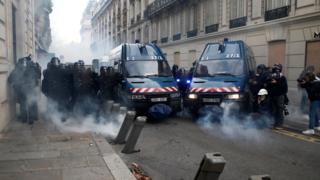 Reuters
People in France are protesting about the cost of diesel, which is the most commonly used fuel in French cars.
In the last year, the cost of diesel has gone up by about 23% in France. So, if your parents bought some diesel for their car one year ago that cost £50, that would now cost over £61.
The cost has gone up because of a tax introduced by French President Emmanuel Macron and his government. Tax is money which the government adds to prices of things like fuel or food, which can then be used to pay for public services, like roads.
The rise in price is to raise money for cleaner cars and more renewable energy, as part of tackling the issue of climate change.
It is perhaps slightly different to other protests, which often have a clear leader.
BBC reporter Lucy Williamson explains: "This is a protest with no official leader, no national organisation, not run by any union or political party."
But a survey by a polling agency Elabe found that almost three in every four French voters approve of the protests, while more than half of the people who actually voted for Macron to become president also feel the same.
Local media is now reporting that the French government has said it will suspend the rise in price which has led to the protests.
They have grown to be about more than just diesel prices with many people marching because they are angry about high the cost of living is.
What have they been doing?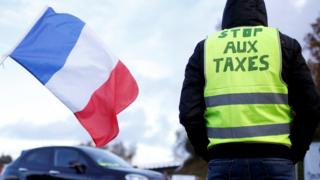 Reuters
The people protesting are known as 'yellow vests' ('gilets jaunes' in French) because this is what they wear to demonstrate.
This has been chosen as the symbol for the protests because in France, all drivers legally have to have a hi-vis yellow jacket in their vehicle in case they break down.
The protests have largely been peaceful ones.
Many demonstrators have been blocking roads to express their frustration at the situation or letting vehicles through toll booths for free.
But a lot of action has been centred on Paris - the capital of France - where protests have turned violent.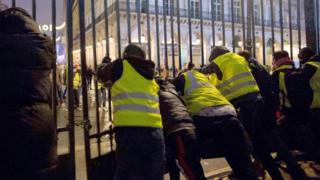 AFP/Getty Images
Some demonstrators have destroyed property or attacked members of the police by throwing objects at them.
Protestors broke through blockades and even took over one of the most famous avenues in the city centre - the Champs-Elysees. Anti-government graffiti was sprayed on the famous Arc de Triomphe, while the ticketing and reception areas inside were ransacked by rioters.
Police said that three people have been killed in the violence and, according to the government, nearly 190 fires were put out and six buildings were set ablaze.
Tear gas and a water cannon were used on crowds of demonstrators to try to control what was going on, while metro stations and shops closed.
Many people were arrested as a result of violent action.
What does the French government think?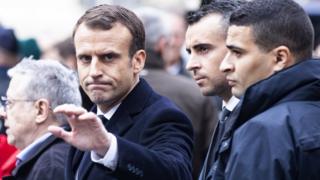 EPA
President Macron defended his increase to diesel prices in the beginning, saying that it is needed to tackle global warming.
Tackling global warming and the use of fossil fuels have been big issues for Mr Macron. He has said that France will close all its coal power stations by 2022, along with a number of nuclear plants (14 of the country's 58 reactors). Currently, France is heavily dependent on nuclear power.
"We have to tax fossil fuels more in order to fund our investments in renewable," he said.
But the government has now said it is scrapping the unpopular fuel tax increases in its budget and has frozen electricity and gas prices for 2019.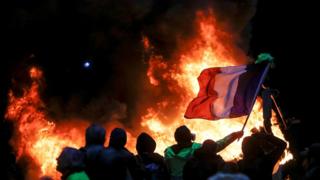 AFP/Getty Images
The problem is that protests have erupted over other issues.
Some protesters are now calling for higher wages, lower taxes, easier university requirements and even for the president is step down.
Some of his critics call him "the president of the rich".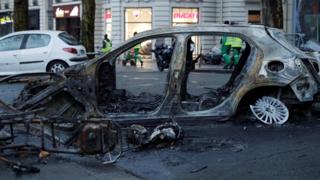 AFP/Getty Images
Mr Macron has spoken out against the violent nature of the demonstrations.
"I will never accept violence," he said last week. "No cause justifies that authorities are attacked, that businesses are plundered, that passers-by or journalists are threatened or that the Arc du Triomphe is defiled."
French Prime Minister Édouard Philippe has said that Mr Macron will put forward a plan to help people talk to each other and resolve the issues.
France is waiting to see what will happen next.