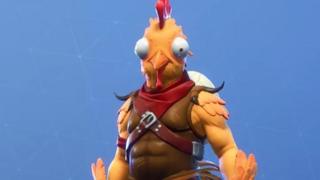 Epic Games
Have you noticed a new skin on Fortnite?
It's a chicken and it was designed by an eight-year-old boy called Connor in the United States.
(Just in case you don't know, a skin is a graphic which is used to change the appearance of a game character.)
The story began back in September, when Connor's dad posted his drawing online to a fan site in the hope that the makers would add it to the game.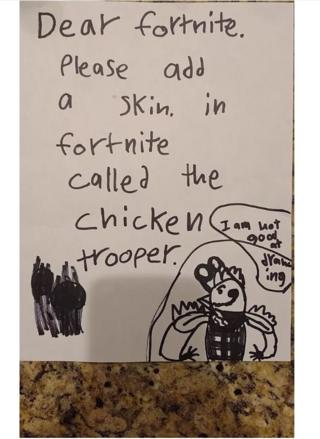 Reddit
Connor had been asking his dad to add the suggestion for many months.
His note said: "Dear Fortnite, Please add a skin in Fortnite called the Chicken Trooper."
The post gained a lot of interest from fellow fans and an artist got involved and added more detail to the drawing and named it 'Tender Defender'.
Incredibly, Fortnite publisher Epic Games found out about it and made the chicken skin a reality!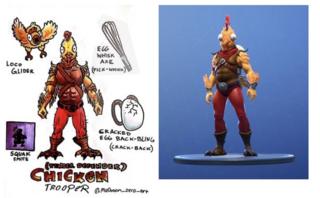 Reddit
Connor's dad said his son is over the moon.
"I surprised Connor with the skin and he and his brother loved it. He is sporting a permanent grin. I am now the coolest dad alive," he said.
So while some of you might brag to your friends about how many Victory Royales you have, Connor really has something to show off about! That's a huge win!