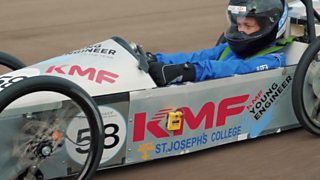 Meet the kids racing electric cars
Meet the kids racing the cars of the future!
These guys have designed, built and are now racing their own electric cars.
The event is part of the annual Greenpower challenge, where students make the cars and then put them to the test on a real race track.
The final event takes place at the Rockingham Motor Speedway race course, which is one of the UK's biggest motorsport courses.
Want to know what it's like racing an electric car on a real race track? Watch the video to find out.