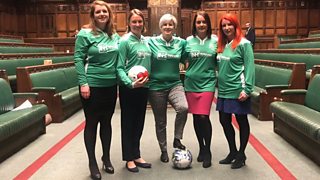 Politicians told off for playing football in Parliament
A group of MPs have been told off for playing football in the House of Commons.
Hannah Bardell posted a video on social media of herself playing keepy-uppies, but the speaker John Bercow said the "historic chamber should not be used for this type of activity".
He said that several members involved had apologised, and that there were "no hard feelings".
The women had been getting ready to play a game with the parliamentary football team. However the match was cancelled because work overran.