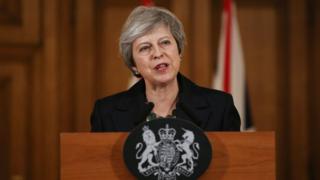 Getty Images
The cabinet is a special group of the most senior members of the government.
The team of 20 or so ministers are chosen by the prime minister. Currently, there are 23 members of the cabinet, including Prime Minister Theresa May.
Most people in the cabinet are in charge of a particular area of public life - for example, health, transport, the environment or how the country defends itself.
It is possible to have cabinet members who aren't in charge of something specific. These are called 'ministers without portfolio'.
Members of the cabinet usually meet once a week to talk about the most important issues for the government.
On Wednesday 14 November, Prime Minister Theresa May had a five-hour meeting with her cabinet about Brexit.
Mrs May was presenting a deal to her top team about how Brexit will work and hoping that they would approve it.
Although the cabinet ministers all agreed on the deal at the time, some of them weren't very happy about it and have since left the cabinet because they felt they couldn't support it.