Children in Need has now raised over £1 billion since it began the annual fundraiser in 1980.
It comes after a record-breaking £50.6 million was donated during Friday's programme.
The five-hour show saw the cast of EastEnders dress up as Disney characters and perform a medley.
Doctor Who star Jodie Whittaker made an appearance on the charity extravaganza, surprising a young fan.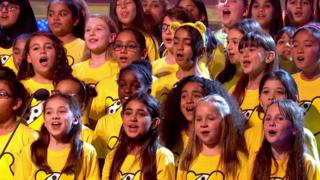 Lots of you have got in touch to let us know what you have been doing for Children in Need.
Woodside Primary School in Hamilton have been busy all week guessing Pudsey and Blush's birthday, collecting pennies for Pudsey, face painting and wearing yellow and spots!