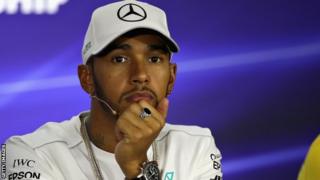 Getty Images
Lewis Hamilton has used his social media to explain himself after he was criticised for saying India is a 'poor place'.
In an earlier interview with the BBC, the Formula One World Champion said "I've been to India before to a race which was strange because India was such a poor place yet we had this massive, beautiful Grand Prix track made in the middle of nowhere. I felt very conflicted when I went to that Grand Prix."
That led to some fans being unhappy with the British driver, with one Twitter user writing:
"No Lewis Hamilton, you are wrong. F1 needs to go to new countries to popularize the sport."
"I think it's better you stick to racing and let the sponsors, marketing and branding teams for Formula 1 handle the race circuits. FYI F1 is hugely popular in India."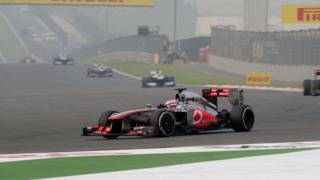 Getty Images
"That money could have been spent on schools or homes for those in need."
India spent an estimated $400 million to bring Formula One to the country, but the Indian Grand Prix only took place three times, from 2011 to 2013. It was removed from the F1 schedule because the owners of the track owed the sport money.
Although poverty in India is improving, it is still a big problem. At the time when Lewis Hamilton was racing in India, there were approximately 100,000 homeless people living in New Delhi and half of them were children.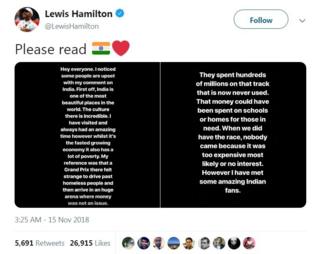 Twitter/@LewisHamilton
Hamilton has now come out and given a full explanation of what he was saying on Twitter and Instagram.
"Hey everyone, I noticed some people are upset with my comment on India," Hamilton posted on his social media accounts. "First off, India is one of the most beautiful places in the world."
"However, whilst it's the fastest growing economy, it also has a lot of poverty."
"It felt strange to drive past homeless people then arrive in a huge arena where money was not an issue."
"They spent hundreds of millions on that track that is now never used," Hamilton said.
"When we did have the race, nobody came because it was too expensive most likely, or no interest. However, I have met some amazing Indian fans."
"That money could have been spent on schools or homes for those in need."