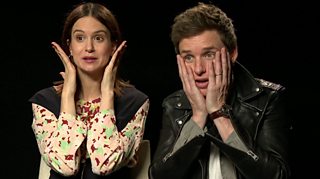 Fantastic Beasts stars answer your questions
Listen up wizarding fans! Newt Scamander and his Fantastic Beasts are back in a brand new movie - The Crimes of Grindelwald.
Martin caught up with the film's stars, including Eddie Redmayne and Ezra Miller, to ask them the brilliant questions you sent in about the magical movie.
Fantastic Beasts: The Crimes of Grindelwald (12A) is released in UK cinemas on 16 November
If you like this story then try: Ezra Miller strikes again at London premiere