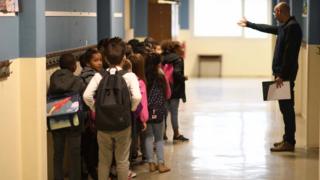 Getty Images
What do you think about staying totally quiet in the corridor between your lessons?
Well, parents of pupils at a secondary school in Birmingham say they were sent a letter earlier this month saying their children would be expected to move around the building in silence.
In the letter, the school's acting co-heads said the policy would mean children arrived 'calmly and ready to learn because good behaviour needed to be maintained throughout the day.'
The letter to parents said students will be expected to be completely quiet as they move from assembly and when moving from lesson to lesson.
Children will be able to talk in the canteen at lunch and on the field at break times.
If pupils break the rules, they'll get a 20-minute detention.
Some parents and students aren't happy with the idea, saying it's too strict.
But this isn't the first school to bring in the silent guidelines. With some claiming it can improve behaviour and results.
So what do you think of this rule? Is it a good idea or is it too extreme? Are you and your friends noisy at school?
Please vote or let us know by commenting below.